Who is Simone Alexandra Johnson?
Simone Alexandra Johnson, highly recognized as the eldest daughter of Dwayne Johnson and Dany Garcia. Despite being the daughter of Dwayne Johnson, the famous ring wrestler who switched into the film industry in 1999 and box-office star and Dany Garcia who is a film producer, talent manager, business person and philanthropist, she is a well-known fashion model. In 2018, at the 43rd 'People's Choice Awards', Simone got the first-ever Golden Globe Ambassador. In her social media platforms, she is quite popular especially on Instagram and has around 305.6k followers.
Early Background, Family and Personal Life
Born on August 14, 2001, in Davie, Florida, United States, Simone belongs to the mixed ethnicity of African-American and holds an American Nationality. Although Johnson belongs to celebrity family, she became a star in her own right. On May 3, 1997, Simone's parents, Dwayne and Dany were married but in her early age (2008), after being 10 years together, her parents Dwayne Johnson and Dany Garcia decided to get the divorce. Her father was a third generation wrestler and actor and best known for his movie 2001's The Mummy Returns. Although her parents' married life is no more, Simone keeps a special bonding with her father. Do you know that her mother, Dany is the co-founder of Dwayne's production company? Moreover, she is Dwayne's manager.
Now, Dany married to Dave Rienzi, who was Dwayne's personal trainer. Simone keeps her personal profile quite away from the public eye. Further, she tried to keep her profile as being the daughter of a famous celebrity a little bit low and get touched to the world only through her social media platform. In her family not only her father, Dwayne Johnson a famous wrestler but her grandfather, Rocky Johnson was also a popular wrestler who was inducted into the WWE Hall of Fame.
In 2015, December 16, Simone welcomed her lovely sister Jasmine Johnson from her stepmom Lauren Hashian. Nowadays, Simone is focusing on her career as a model.
Professional Life and Career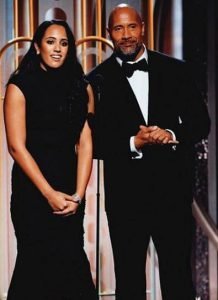 Simone Alexandra Johnson is the teenage star who is well known as the daughter of Wrestler and actor Dwayne "The Rock". From her childhood, she has always been in a public figure. Her dreams towards the field of entertainment came because of her successful celebrity parents. For the first time, she was signed by 'IMG Models,' and due to her best pictures during the photo shoot, her Instagram followers are increasing rapidly. By her photograph, it seems that she is very potential for her career in modeling and fashion. Her fashion sense was amazing when she carries herself in all the Red Carpet events.
Simone was announced as the first-ever Golden Globe Ambassador. That moment was one of the proud moment for her parents. Dwayne spoke about her daughter achievement by saying he was very proud of his daughter. Nowadays, Simone has managed herself to establish in modeling.
Simone Alexandra's Relationship with her father "Dwayne Johnson"
After the separation of her celebrity parents, most of the people thought that it will bring so many challenges in her life mainly in her psychological well-being. While it is true that for any kid, it is very difficult to handle the divorce news of their parents. In her early age of seven, she had to face that challenge when her parents officially announced their divorce.
The incredible part is that her parents' divorce news doesn't make her weak, rather she surprised all by staying calm and adapt to the situation. She proved everyone that Dwayne, her father has been her inspiration and role model and she wants to be her father and follow his footsteps when she gets older. Her parents divorced on mutual consent and both agreed on sharing the custody of their daughter. Both parents agreed to pay $5000 for their daughter's education and other related expenses.
Dwayne Johnson always keeps the cordial relationship and displayed affection for her daughter Simone not only private life but also on the public. He has always been supporting for her daughter. Not only from Dwayne side, but Simone also supports her father in her his personal affairs including his second wife, Lauren Hashian. After the newborn baby from her stepmom, she happily welcomed her sister and further posted pictures on her Instagram page. Again, she made everyone surprised with her warm behavior.
In an interview to Oprah Winfrey, Dwayne Johnson spoke that as a father, he is blessed to have a daughter like Simone. Simone always tries to keep her away from the limelight. In one interview, she told that being a celebrity daughter, it is very difficult to maintain a low profile. And she tries to keep her personal life away from tabloids. Simone has also interest in being WWE superstar in the nearest future. If her dream come true, she would be the fourth generation in her ancestry that belongs to the wrestling world.
Simone Alexandra Johnson: Is she dating someone special?
Simone is such a girl who always gives her first priority to her career. There were no rumors and controversies related to her dating affair. She is single and always wants her personal profile related to her boyfriend or dating to keep away from social media. At present, she seems to be busy making her career instead of engaging in a relationship. And she is still young to get married.
Johnson's Net Worth
Being a rising star and famous model, In future, Simone might earn a huge amount of money from her professional career. However, the information regarding her current net worth is unknown.
Simone Johnson's Height and Body Measurement
Simone being a typical American has golden brown eyes and dark hair. She is 5 feet 10 inches tall and 54 kg weight which is best for her body type. She has black hair with brown eyes and has glowing skin.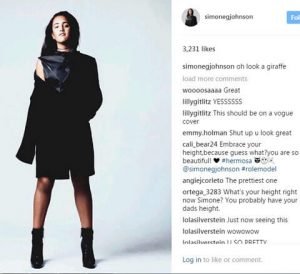 Simone loves social media and she is one of its active users. She is most active in social media like Facebook, Instagram, and Twitter. She connects to the world through the social media, especially by her Instagram account where she has over 305.6k followers. There is so many fan page in a social network. She uploads many pictures and in her every picture she writes amazing captions. Her every caption express how marvelously she made herself to become a strong woman.