There is no denying the fact that musicians are considered one of the most attractive human beings. But female bass players who are a dime a dozen, take it to another level. For a long time, there has been a sort of fascination for female bassists who always seem to make their presence known in a rock band.
One of up and coming female bassists who is garnering attention with her band 'Pinky Pinky' is Eva Chambers. But long before gaining recognition through her music, Eva Chambers was already in the public spotlight owing to her model turned actor father Justin Chambers. So, who is Eva Chambers?
FAQ on Eva Chambers
How old is Eva Chambers?

Eva Chambers is 21 years old. 

Does Eva Chambers play in a band?

Yes, Eva Chambers is the bassist of the band called 'Pinky Pinky'.

Is Eva Chambers on Instagram?

No, Eva Chambers currently is not on Instagram however she connects with her fans through the band's official Instagram page.

Where does she currently live?

It is not known whether Eva has moved out of her parent's house or not. Her parents own a 1.6 million dollars apartment in LA. 
Eva has a Big Family Full of Stars
Eva Chambers was born on March 31, 1999, in New York, the USA to parents Justin Chambers and Keisha Chambers. She grew up in a big family of 3 older sisters, Isabella, Maya, and Kaila, and one younger brother, Jackson. With the breakout role of her father, Justin Chambers in the popular TV show Grey's Anatomy, during her early years, he used to travel back and forth from New York to Los Angeles.
The family stayed in New York for quite some time before finally moving to Los Angeles so that the family wouldn't have to be separated during her father's filming schedule. 
Eva Found her Passion in Music
For Eva, who always had a very keen interest in music, the move to Los Angeles ended up being one of the most substantial moments of her life. In an interview with i-D, Eva said:
"When I moved to LA, my sister and I started a band and I played keyboard. From there, I decided to teach myself every other instrument.".
She then gradually moved from playing the keyboard to bass guitar at the age of 13.
When talking about his big family having musician daughters, Eva's father Justin Chambers said:
"Well, our house is sort of like a nightclub. We've got loud music and chaos and crowd. But really, we're really laid back. Our kids are in a little band and they like to play video games and my wife and I do our best to live a low-key, non-Hollywood kind of life."
Meeting People With Similar Taste during School
Eva Chambers went to her middle school and high school in Los Angeles. During high school, Eva met a fellow schoolmate Anastasia Sanchez who had similar taste in music as her. Not much is known about her education but one of her bandmates, Anastasia with whom she went to school said:
"Our school wasn't very strict academically, so we had a lot of room to stay creative. At school we'd just do visual, video, etc. and outside of school, we'd try to make music as much as we could. I think that was helpful, but it was just a hobby at first. We just thought we'd get together and write some songs for fun."
The duo welcomed another member, Isabelle Fields who went to a different school, into their friend circle. When Isabelle was in eighth grade, she made an Instagram post captioning 'I want to start a band' to which Eva responded. After that, they met and quickly became friends.
While both Eva and Anastasia had a more gentle approach toward music, Isabelle was a little different story. Isabelle mentioned that she did not feel like she belonged in the school she went to and hence was not able to make friends. For her, music became her escape and the same music led her to make great friends outside her school.
Regardless of how each one of them got into music, all of them found common grounds to continue jamming together and making music that they would love to listen to.
Going Forward With Pinky Pinky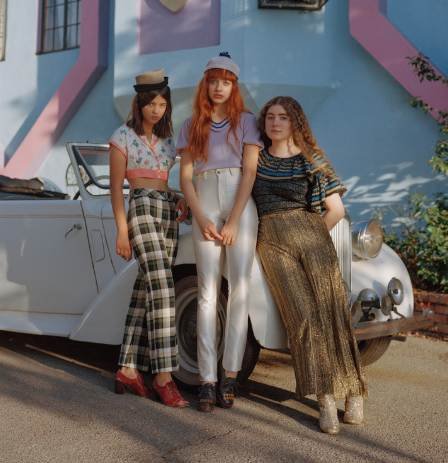 What started as merely a hobby for the three girls gradually turned them into forming a band. Eva Chambers along with her two friends formed a band and named it 'Pinky Pinky'. Talking about the initial phase of their band, bandmate Anastasia said, "When we started the band, it was more of an 'Oh, we all want to play music, Let's just jam.' as a kind of more of a hobby, but then it became, 'Oh shit, THIS could be something." As a band, they had their first gig at the MOCA museum in Downtown LA.
The name 'Pinky Pinky' also caught a lot of attention. When asked about the origin of the name in their interview with i-D vice, Anastasia said:
"We like to say Pinky Pinky means too much rock for one hand because you put both your pinkies up and hands together." Eva on the other hand revealed where the name comes from.
She further said:
"But the name comes from a South African legend about this monster that hurts little girls when they're on the toilet – and this is the PG version."
Guitarist Isabella added, "We actually looked into the legend after we'd already adopted the band name and felt like 'Yikes!'".
With Eva Chambers taking charge of the bass guitar, Anastasia Sanchez as the vocalist and drummer and Isabelle Fields as the guitarist, Pinky Pinky released their first EP 'Pinky Pinky' in April 2017. The album had 4 songs in total. In February 2018, they released their second EP 'Hot Tears' which contained a total of five songs. They also uploaded a music video for their song 'Margaret'. 
The band's earlier sounds were considered garage rock by many. Vice described them as the sound of paranoid youth while Flaunt magazine called them one of LA's coolest girl-bands. Apart from their own show, they have also opened for another LA rock band called 'The Buttertones'.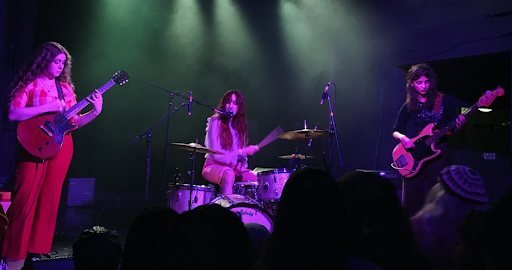 'Turkey Dinner' and Working as a Duo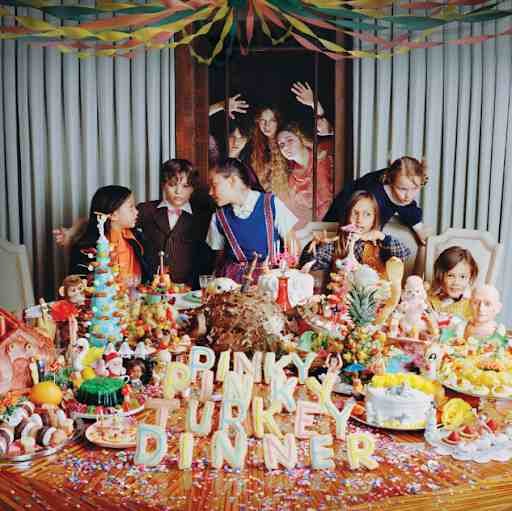 In June 2019, the band finally released their debut full album called 'Turkey Dinner' which has a total of 11 songs. The album is said to be the patchwork quilt of garage rock and oddball indie with lyrics covering everyday observations, anxieties, and passion.
However, after the release of their first album, bandmate Isabelle Fields appeared to have left the band due to unknown circumstances. The remaining duo then went on to release the music video for 'All The Birds' starring only the two of them.
While Pinky Pinky now works as a duo, they have enlisted the help of another guitarist Emily Tooræn to perform as many gigs as possible.
Eva has full support from her father Justin For her Musical Career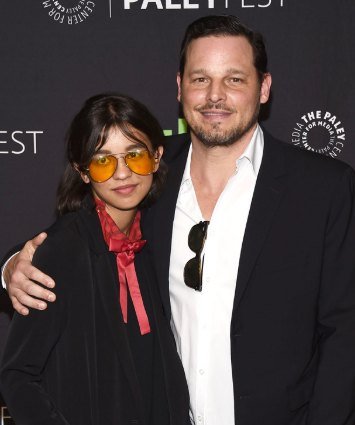 Eva Chambers' father Justin Chambers is famous for his role as Dr Alex Karev in the long-running medical drama Grey's Anatomy. She used to accompany her father to different events along with her other siblings. But having a famous father does have its own benefits. Justin Chambers has always been vocal about his support of his daughter's career.
Upon the release of his daughter's band's full album, he posted about it on his Instagram with the caption 'Pinky Pinky's debut album, "Turkey Dinner," came out today!! So proud of my daughter and her bandmates.' to his 2.1 million followers. Undoubtedly, some listeners were probably led to finding Pinky Pinky's music by that very same post.
Eva's Father Recently made headlines for Leaving Grey's Anatomy after 15 years
In January 2020, Justin Chambers made headlines after he released the statement that he would be leaving the beloved TV show after 15 years of playing the character of Dr Alex Karev. Chambers said to Deadline:
"There's no good time to say goodbye to a show and character that's defined so much of my life for the past 15 years,".
He then added:
"For some time now, however, I have hoped to diversify my acting roles and career choices. And, as I turn 50 and am blessed with my remarkable, supportive wife and five wonderful children, now is that time."