As one of prominent couples in Hollywood, Rita Wilson and Tom Hanks have been the beacon of relationship goals for many. The romance that dates way back to 1988 never seems to amaze the fans. And even two kids later, the bond feels stronger than ever. 
Oh, wait! Did I just say two kids? Yep! Because Elizabeth and Colin are kids of Susan (Samantha) Lewes – the ex-wife of Tom Hanks. Samantha was married to Hanks for almost a decade before the relationship turned sour and they had to call for a divorce. Unfortunately, she isn't with us anymore, but she was and will always be the best mom for Colin and Elizabeth. 
So what happened to her? And how did it all unfold? Here is everything we know about Tom's ex-wife Samantha Lewes.
| Quick Facts on Samantha Lewes | |
| --- | --- |
| Birth Name | Susan Jane Dillingham |
| Born | 29 November 1952 |
| Nationality | American |
| Height | 5 ft 6 inches |
| Famous as | Ex-Wife of Tom Hanks |
| Relationship | Divorced |
| Profession | Actress |
| Ex–Spouse | Tom Hanks |
| Children | Colin Hanks Elizabeth Hanks |
| Death | March 12, 2002 |
| Reason of Death | Brain Cancer |
Samantha's Real Name is Susan Jane Dillingham
Born on November 29, 1952, in San Diego, California, Susan Jane Dillingham took her stage name 'Samantha' to bolster her career. And the name has just stuck with her. Even in movies, she has been in, she is credited by her stage name 'Samantha Lewes.'
She was raised by her American parents, father John Raymond Dillingham and mother Harriet Hall Dillingham. She was really into acting and started performing in theatre early. Sources claim that she was soft-spoken, cheerful and loved being part of plays and theatres.
She went to Sacramento State University where the two couples met for the first time. They both loved acting and the two just hit it off!
Samantha and Tom were College Lovers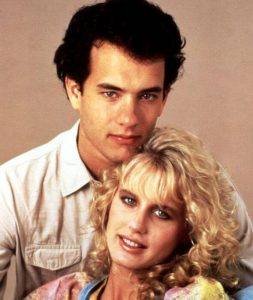 Samantha and Tom both had an eye for acting. In pursuit of their individual career, they studied in Sacramento State University. Both of them took an acting course from the University. That's where they met. She was four years older than him but it was never an issue. The love for acting turned into love for each other. And soon they were dating. After dating for a few years, the couple got married in a private ceremony. Rumors say that only people from closed circle were invited to their wedding.
The college sweetheart tied the knot on January 24, 1978, in a small ceremony. Hanks was just 21 and Lewes was 25 at the time of marriage and they were viewed as the perfect couple at that time.
Her Acting Career was kind of a Stalemate
Samantha although talented wasn't able to make it through Hollywood. However, she did manage to get some cameo roles.
In 1981 she played the role of a waitress on the episode "Cahoots" (S1E19 of 'Bosom Buddies'. It was the series where his husband Tom was in. So you can probably assume that he might have pulled a few strings to cast her. This is also the same series where some speculate started the cracks in their marriage as it was the first time Tom met Rita, his future wife.
Apart from Bosom Buddies, she also made an appearance as a customer in 1984's movie Mr Success alongside James COCO.
In a nutshell, Samantha's career never took off and to this date, she is mostly known as the ex-wife of Tom Hanks and the mother of Colin and Elizabeth Ann Hanks.
She is a Mother of Two, Colin & Elizabeth Hanks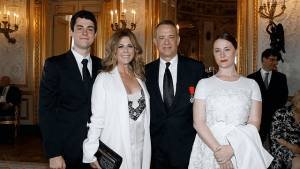 Samantha and Hanks together have a son named Colin Hanks (Born in 1977) and a daughter Elizabeth Ann Hanks (Born in 1982). Colin was born before the couple tied the knot in 1978.
Just like his father, Colin took acting as his career. He has starred in various A-listed movies like King Kong and Orange County. He was also nominated for MTV movie awards for his performance in Orange County. Sadly, Sam wasn't alive to witness the first breakthrough moment.
Along with acting, he has also taken the step into filmmaking. His first documentary 'All Things Must Pass: The Rise and Fall of Tower Records' were released in 2015 and was critically acclaimed. Colin is married to Samantha Bryant since May 8, 2010. Their wedding reception was held at London West Hollywood Hotel in Los Angeles, California. The duo is blessed with two lovely baby girls named Olivia Jane Hanks and Charlotte Bryant Hanks.
Likewise, Samantha's daughter Elizabeth Ann Hanks shares an outcast relationship with the public. She isn't into the entertainment industry like her brother. But she does have a profound image through her editorial positions in news outlets like Huffington Post.
The downfall of Samantha and Tom Hanks Marriage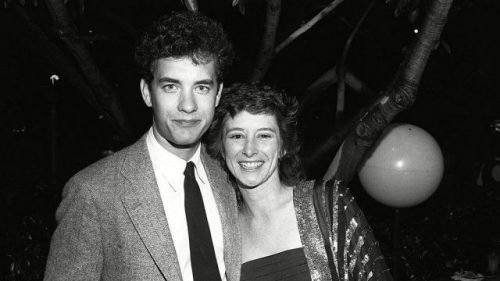 When you are married at an early age like Hanks was, the relationship has every chance to go down. Both of them were struggling as their career wasn't moving in the right direction. And having Colin at just 23 only made things difficult for Hanks as he recalled the time.
In an interview with Desert Island Discs, Hanks revealed that the prime cause of marrying Susan was his inability to fight loneliness. He said:
"I was too young and insecure. I was 23 and my son Colin was already two when I married for the first time."
He also added:
"I was looking for something I had not found as a kid, and a broken marriage meant I was sentencing my own kids to the sort of feelings I had at their age."
That's not what you expect from a person like 'Tom Hanks.' Not so a classy act. But hey! we all make mistakes when we are young.
Before their wedding, the couple welcomed their first baby, Colin Hanks, and a beautiful baby girl came into their life after five years. Though the duo wasn't financially sound, Hanks revealed having a baby at 21 turned out to be the greatest thing that ever happened to him. 
From the start of his career in a theatre production, The Taming of the Shrew, Samantha stood side by side with her husband. She also led her to the red carpet of various movie premiers like Splash.
However, their relationship wasn't meant to last forever. Cracks began to show in their relationship after 1984 and the couple began to live apart due to some personal issues. This started a long and messy divorce trial that ended in 1987. Tom however had already made his relationship with Rita public before their divorce. This sparks questions about Tom's integrity as a person.
Going through Separation Battle
Almost after being together for a decade, the couple separated on 19 March 1987 following irreconcilable divorces. Her ex-husband told her about their marriage and said: 
'We tried to make our marriage work, but we were both too young.'
Tom knew how children suffer from their parent's divorce and wanted to save the relationship at any cost. He had gone through the same pain as his parents were also a divorcee. Unfortunately, he couldn't do so. It was really a tough decision for him and felt guilty for his children. Regarding the same he said: 
"I was looking for something I had not found as a kid, and a broken marriage meant I was sentencing my own kids to the sort of feelings I had at their age."
Their marriage ended for something better. Even after the separation the duo remained friends and took dual custody of their kids.
She was Harassed by her Ex-Husband, Tom Hanks 
After getting a divorce, the couple was spending life in their own way. She gave her full time in raising her children. However, after their divorce news, it had been revealed that Tom harassed and attempted to kill his ex-wife Samantha.
As per pagesix.com, the news became public when the court papers were found and published in the book 'The Tom Hanka Engima" by David Gardner. As reported, Lewes wrote a letter to a LA court requesting a restraining order against Hanks. She said:
"My husband has repeatedly verbally abused and humiliated me during the past 90 days in my home. This caused me to suffer great emotional distress."
In return, Tom said, "Lewes hoped to squeeze an unfair settlement out of me."
Samantha's Life after her High Profile Divorce
After her doomed marriage, Samantha decided to live a low-key life raising her two kids Colin and Elizabeth. On the other hand, Tom married Rita Wilson a year later after his divorce got finalized in 1988. He says he feels complete after meeting Rita. The couple has produced two kids Chester Hanks and Truman Hanks and they all have an enjoyable life. 
Well, for Samantha the divorce changed her life drastically. She remained single till she last breathe after her traumatic separation from Tom Hanks. 
Samantha Lewes' Death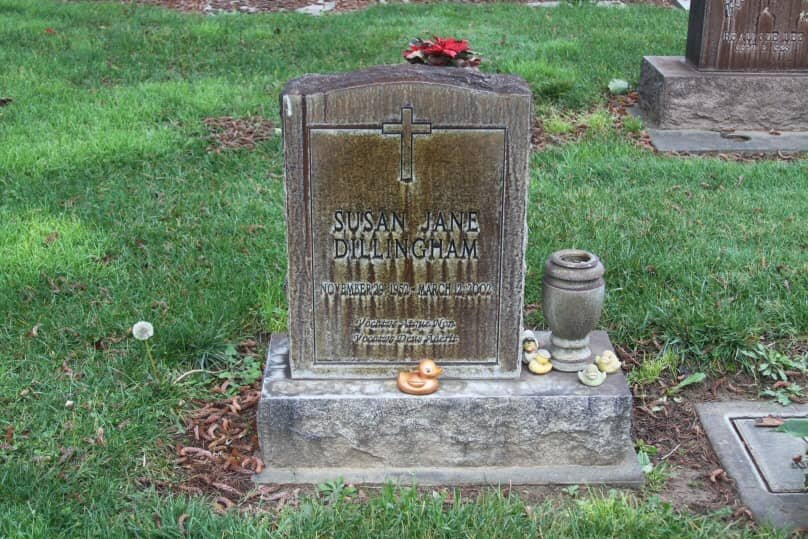 Since her divorce, she began living a private life and disappeared from the media world. Later on, her life took a different dimension when she was diagnosed with brain cancer. She was diagnosed with a terminal disease after a routine check-up and had only a few months to live. 
As soon as the news broke, Tom arranged to have her seen by top bone-cancer specialists and even paid the medical bills. She was treated by Dr Jeffrey Bekhardt and oncologist Dr Robert Figlin. 
The news was devastating for her family including her ex-husband Tom. Although they tried their best to save her, she couldn't win the cancer battle. Sadly, she passed away on 12th March 2002 at her house in Sacramento County, California at the age of 49.
Samantha's life probably took a huge turn in a lane of depression after her divorce. He probably was her first love, and couldn't digress from the fact that he left everything for Rita. And let's not forget her statement about Tom's harassment. Although evidence isn't conclusive, these all might have had a toil on her mental condition.
Now she is gone. We just hoped she could be here to see her kids doing great with their lives.