The first ever NASCAR driver to grab $100 million in career winnings, Jeff Gordon has achieved new heights in his illustrious career. The vice chairman of Hendrick Motorsports has the most wins in NASCAR modern era.
The three-times champion and hall of fame driver have won it all! He had a legendary career, two beautiful kids, and has a beautiful wife in Ingrid Vandebosch Gordon. What more can a man ask from his life. But this wasn't the case all along. He has had his tumultuous phase of ups and downs.
While his 25-year-long career has hardly had any splashes of stains, his personal life though was under serious scrutiny. The infidelity allegations that surfaced in 2002 did raise few eyebrows. And finally, his 7 years of marriage with Brooke Sealey came to an end. As a long admirer of Gordon, it did come out as a surprise in the motor-sports world at the time when Brooke filed for divorce. Once called "Crook" Gordon, Brooke has literally phased out from the spotlight. So where is she now?
Apparently, she is a married woman who tied up with Mullins McLeod, a former South Carolina Gubernatorial Candidate. Apart from that, here is what we know about the former model and winner of Miss Winston.
| Quick Facts About Brooke Sealey | |
| --- | --- |
| Full name | Brooke Sealey |
| Age | 51 |
| Birth Place | Winston, Oregon |
| Height | Around 5'5″ |
| Ethnicity | Caucasian |
| Relationship Status | Married |
| Spouse | James Dixion |
| Children | 1 |
| | |
Sealey was a former Miss Winston
Sealey wasn't just a nobody. She was Miss Winston, a model representing NASCAR's then-series sponsor. From 1997-2003, NASCAR was leased to RJ Reynolds Tobacco Company who named the series after "Winston." This saw a meteoric rise of the NASCAR Winston Cup Series era. Models were handpicked by the company to represent Winston and add glamour to the sport. And Brooke was one of them.
Brooke First Met Jeff at Victory Lane in 1992

It was 1993 when Gordon was starting to make a name for himself. In fact that year he won the Winston Cup Series Rookie of the Year when he was driving his favorite no 24 car. He soon put everyone to notice by winning the first of two qualifying races for the 1993 Daytona 500. And, Brooke was no exception. During that time, she worked as a Winston Cup model welcoming the NASCAR drivers on the victory lane. And, soon the welcome sign turned into dating.
However, they both were tight lips and kept their dating life away from the attention. Due to some obscure rule that prohibited NASCAR drivers from dating Winston girls, they two couldn't be seen together as a couple. They had to be so aware of the detection that they used to literally sneak out of the hotel's backdoor.
Talking to Sports Illustrated in 1995, Jeff even stated that he had become a "master at sneaking in and out of hotels" as a result of his secret relationship.
Brooke and Jeff Got Married in a Private Ceremony in 1994
A year later, after Brooke's tenure as Winston girl ended and when her boyfriend won the "NASCAR" car race, Jeff and Brooke revealed themself as one of hottest couple in the sport. And soon after Jeff took the liberty of proposing his beautiful girlfriend in 1994 at Daytona 500 in February.
While during an interview with the lovely couple, an amazing thing was opened. At first, Brooke told that "He came up to me at Daytona and he asked me to go eat lunch. His voice was quivering. He was really nervous." After that Jeff added, "I was so nervous. I went to the bathroom five times." By smiling he also added, "I was trying to get the ring just right. It was in my pocket." And the gorgeous Miss Winston, Brooke, and retired stock NASCAR racer knot in the year 1994 November 26.
Seven Years of Marriage Turned into a Messy Divorce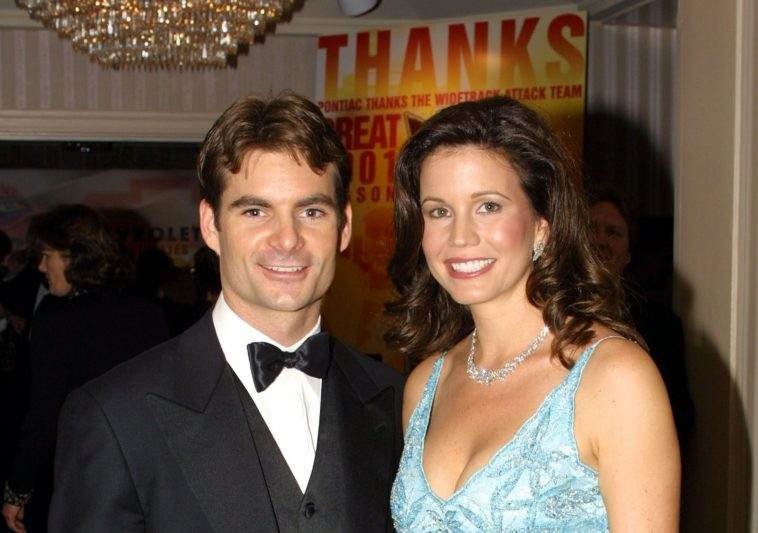 Everything seemed well and breezy for the couple till Brooke filed a divorce in 2002. That's when we realized that there were thorns growing in the relationship that was beyond control. The reason for their divorce pledged was stated as "irretrievably broken as a result of the husband's marital misconduct". Jeff who was so concerned about his image that he even rejected the beer commercial would do such a heinous thing was a tough pill to swallow. But it wasn't the divorce that had the many heads turns, rather it was the alimony demand that made the headlines.
During her divorce settlement, she demanded to have an airplane, periodic use of the couple's boats, two cars, and alimony. Many media was on Brooke's back even labeling her as "Crook" Gordon for her demands in the petition. Although Gordon seemed to be the antagonist of the divorce saga, the majority supported him. Even the bad jokes were in favor of him.
It took almost 16 months for the divorce process and got finalized on 13 June 2003. And their settlement came to end with the Brooke receiving $15.3 million. The division of their assets wasn't disclosed.
During the time of split up, Jeff Gordon said that "Brooke and I had a high-profile relationship and we had to. We got a lot of attention and we had to adjust our lives and what we did and how we went about it because of that."
Brooke has Married Twice after Jeff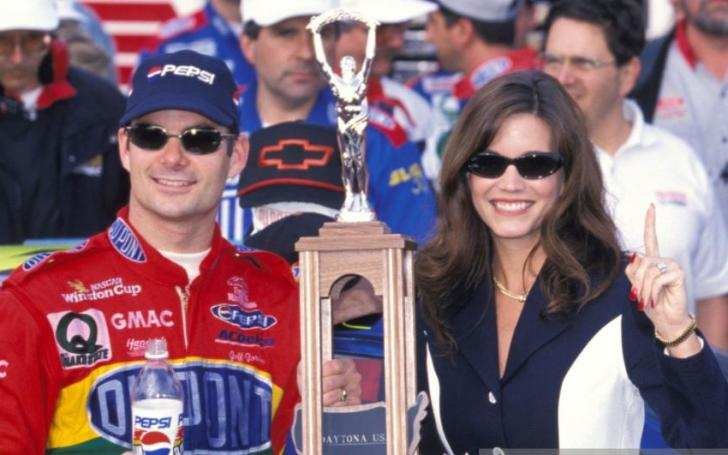 After finding her heartbroken, Brooke quickly found shelter through James Dixion. The dating history isn't clear yet but they have a child named "Ella Gordon." Quite surprisingly, she named her kid after Gordon. Her marriage with Dixion didn't go too well and this time she was at the receiving end of the alimony. Various sources claim that James Dixion claimed for alimony which was around $10,000 per month, a house worth $1.5 million, and a Mercedes-Benz car.
Also in the letter which was written in the custody disputes claimed that, "It is absolutely inappropriate for the child to be legally named after Jeff Gordon who is neither the father nor a blood relative. We understand that Ms. Gordon's desired to keep her ex-husband's last name, which is certainly her choice. But she planned to have a child with James Dixon, not Jeff Gordon."
Well, talk about Karma getting back at you!
Currently, she married Mullins McLeod who is a personal injury lawyer and also a former South Carolina Gubernatorial Candidate. They also have two kids together. They have kept their private life away from the limelight. So, it's hard to know much about their personal life.
Brooke's Net Worth: How Rich is Sealey?
She was once referred to as "Crook" Gordon by various tabloids due to her settlement demand. So you can probably guess the bundle she was after. According to her divorce petition, she requested for the exclusive use of their 23,095-square-foot oceanfront home in Highland Beach, Fla. a Porsche, a Mercedes 600 SI, and periodic use of their boats and the Falcon 200 airplane. On top of that, she asked Gordon to pay for the salaries of their chef, housekeepers, and maintenance workers. Although she had modeled for some prestigious outlets, she couldn't embark on an astounding career like her ex-husband. And, at the end of the settlement, she received around 15.3 million. The details of the distribution of the assets weren't disclosed.
So, most of her income comes from the alimony she received from Gordon. Now, she is married to Mullins McLeod who is a lawyer at McLeod Law Group. Any sort of ventures she has pursued isn't disclosed in the media.
Although Jeff and Brooke had a painful ending, the ex-lovers have sought comfort through different people. Sometimes what looks great from the outside isn't great from the inside. And, things don't work out. Both the couple now in their late 40s and two kids later have probably turned on the old chapters. And, they all look happy!