Brief Intro on late Scott's wife: Jamie Wachtel
Jamie Wachtel, a well-known for being the third wife of Stone Temple Pilot's late lead singer Scott Weiland. After the death of her beloved, Jamie totally broke down but started over her life and now recognized as a famous photographer in the U.S.A. The beautiful daughter of James and Karen Wachtel, Jamie was born in Canton, Ohio, the United States of America. Since from an early age, her nickname was "Jimmy". She has altogether two handsome brothers namely Kenneth and Jason. Jamie, not only known as a renowned photographer but also a popular model, producer, photo assistant, and studio manager. Scott and Jamie had no kids but she has a good-looking son from her previous partner named Wolfgang.
Wachtel's career as a photographer
Jamie's career as a photographer begins in her childhood days. From an early age, she was interested in photography and got her first camera at the age of twelve. Not only on photography, but Wachtel also started her career as a model when she was only twelve. Later after their involvement in modeling, at the age of 16, she worked as a model in Los Angeles. Along with modeling, she took herself as a producer and studio manager with fantastic photography in Los Angeles. When we talk about Jamie's career, we only focus on and know her as a photographer but her capabilities were much more. She is a great painter and her paintings are all kept in Purchase and Shipping for sale.
A Short journey of their heavenly married life
Late American singer, Scott Weiland, and Photographer, Jamie Wachtel met for the first time on the set of Scott's music video, "I'll Be Home for Christmas," in 2011. During that time, Jamie was totally focusing her career as a photographer and interestingly, she was photographing the same music video. Scott was a little bit nervous about his music video. While at that time Jamie gave full support and calmed him. And after that Scott shared his feeling about Jamie and told that "I was kind of nervous because one of the songs ["I'll Be Home for Christmas"] was a tribute to war veterans from World War II onto today. So I'm in this vintage World War II dress outfit, and she was taking stills of me. I was leaning against this fireplace, and she's like, 'You might want to tuck in your belly a little bit.' It was around the holidays – it was after Thanksgiving, and you know how that tends to be. I was kind of caught off guard, and I started laughing and she started laughing. And I don't know . . . something magical happened." After the shoot, she gave me a ride home "I just thought, 'I have a feeling that I am going to fall in love with this woman,'"
After knowing each other, the two finally fell in love and started dating. And having a one-year relationship, they announced their engagement and got engaged in November 2012. Just a couple of times before the marriage, Weiland in his interview with Rolling Stone shared his happiness and talked about his beautiful wife, and said that "She is incredibly beautiful in every aspect of the word. Lovely, smart, passionate. And she loves my kids and I love her son. We're getting married in the spring, and our families will be living together. … She's the greatest thing that's happened to me in a long, long time."
After spending a beautiful moment together, Jamie and Scott finally tied the knot on June 22, 2013, at their Los Angeles home. Only the families and close friends have attended their ceremony. Soon after the wedding ceremony, the beautiful photographer shared her happiness and expressed that "We had the most beautiful, heartfelt ceremony. We all cried and laughed. Scott and I are over the moon!" Both Jamie and Scott had children from their past relationship. But they both accept each other and were living a wonderful married life until the shocking news of Scott's death on 3 December 2015 came into the limelight.
Heart-breaking phase in Jamie's life
The lovely couple was together for only two years and their married life came to end after the tragic news of Scott Weiland's death from his Instagram account. It was a great loss not only for Jamie but for the American Music world. Scott, renowned for being the Stone Temple Pilot's former lead singer found to be dead on a tour bus in Bloomington, Minn by his manager in December 2015. From the investigation, it was stated that the main reason for his death was the accidental overdose of cocaine, methylenedioxymethamphetamine (MDA), and alcohol. However, Jamie denied the news of her husband using drugs for years. The death news of Scott was totally difficult to accept for his loved ones, especially, Dave Navarro and former bandmate Slash. And Navarro tweeted that "It's not my loss, it's our loss. Send your thoughts toward the family!"
Is Jamie in relation to someone after Scott's death?
The tragic news of singer Scott Weiland's death was a shocking blow for everyone. But for his wife, Jamie it was a totally heart-breaking moment which seemed very difficult to recover and think for her future days. For many people, the one question somehow raised in their mind is: Is Jamie in relation with someone after Scott's death?
For most people, it was easy to pull through from their divorce but the death news is the worst thing that gives anyone a big heartbreak. And talking about her love affair after Scott's death, there were no rumors about her relationship. She was totally single and has not been linked with anyone and living a private life.
Has Weiland moved on after the loss of her beloved one?
In the whole world, every people have to accept birth and death which are part of our life. But still, for all it is very difficult to accept death. The same thing happened in the life of Jamie after the death news of her husband. For many years it seemed like she is totally crazy for her late husband and hadn't moved from her past. But we all know that one must move forward by recalling the past. And Jamie made herself strong and moved on in her life. In her social media, she stated that "I really just want to move on with my positive memories of my husband. I want to move on as an artist. I am fortunate that I do have a career. I had a career when I met him. It was somewhat shelved for a while there because I toured with and I was involved in his business."
Late Scott had altogether three wives, the first one is Janina Castaneda (married on September 17, 1994, and divorces in 2000), the second wife, Mary Forsberg (married on May 20, 2000, and got divorced in 2007). From the second wife, they had two kids namely Noah (born in 2000) and Lucy (born in 2002). According to TMZ.com, in April, the third wife of late Scott, Jamie filed a claim regarding the singer's estate to own more than $64000. Today, she is still single and spending her private life with her son.
What?? Jamie's diamond engagement ring on eBay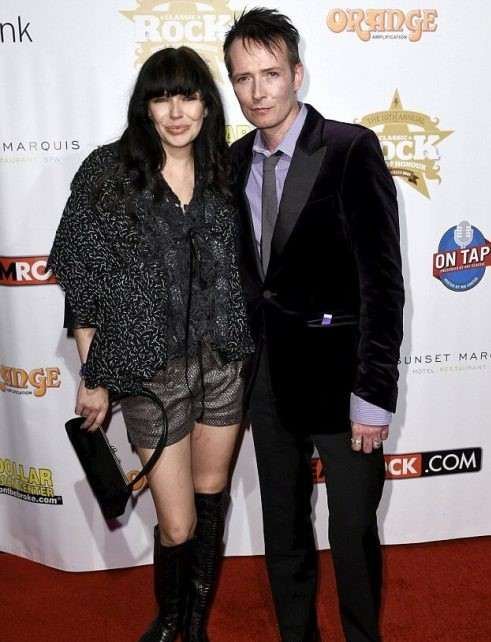 For Jamie, the engagement ring is the one that reminds her beloved one. But when the shocking news of "Jamie's diamond engagement ring on eBay" came into the limelight, everyone got surprised. Photographer Jamie put her 2.7-carat gold and diamond engagement ring on eBay for auction with a starting price of $8000 and also promoted on Facebook for sale. In her Facebook post, she posted that:
'This is the ring Scott gave me when he proposed. Eight months into this new chapter of my life, I need to part with it,' Further, she added in her post that 'I am so sad to see it go but it's a truly gorgeous piece and I would love for it to make someone as happy as it once made me,'
What about her Net Worth?
Famous photographer, Jamie has achieved a number of successes in her career. That means she has an impressive amount of net worth from her successful career. Besides photography, she as a painter got a handsome bread from the sale of her painting which ranges from $300 to $1200. After knowing all about her, we can assume that her net worth is somehow fruitful. However, the exact net worth of Jamie Wachtel is still under review.