Hollywood legend Robert De Niro is known all around the world for his successful acting career spanning more than five decades. With so much success it is no surprise that the media has always been interested in his personal life. Robert De Niro has been in countless relationships and has already been married twice. In 2018, he divorced his second wife, Grace Hightower which led to a lengthy custody battle of their second kid, Helen Grace De Niro.
But their daughter is not the only child the couple share. They also have a son who has already grown up. Let us find out more about the youngest son of Robert De Niro, Elliot De Niro.
| Quick Facts on Elliot De Niro | |
| --- | --- |
| | |
| Famous as | Son of Robert De Niro and Grace Hightower |
| Gender | Male |
| Date of Birth | March 1988 |
| Siblings | Raphael, Drena, Julian, Aaron & Helen |
| Current Residence | United States of America |
| Relationship Status | Single |
| Hobbies | Playing Tennis |
| Net Worth | Unavailable |
Elliot is Kept Away from the Limelight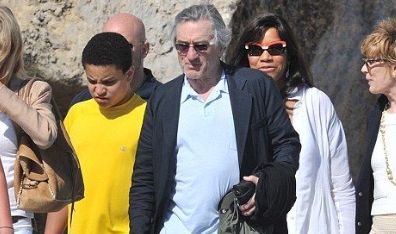 Elliot De Niro was born in March 1998, in the USA to parents Robert De Niro and Grace Hightower. Unlike his father, Elliot rarely appeared in front of the media. Both Robert and Grace also preferred to keep their firstborn away from the spotlight.
Elliot is Suffering From Autism
In 2016, Robert De Niro revealed that his son Elliot was autistic. This revelation came after he reluctantly pulled out the controversial documentary film 'Vaxxed' from the Tribeca Film Festival despite promoting the film.
According to Robert, his wife Grace claimed that their son Elliot changed overnight after the shot of MMR (Measles, Mumps, and Rubella) vaccines. For any parent, the health and safety of their child is their major priority. So, the controversial film spoke to him and his family and he strongly advocated that everyone should watch the film. Before this, both Robert nor Grace had not revealed anything regarding the diagnosis of their son.
Elliot De Niro Has an Interest in Tennis
As a parent, you would always want the best for your child. For Elliot, knowing what is best for him was one of the hardest decisions for his parents. His parents have directed him towards learning tennis since his early days. At first, it was very hard for him to get used to the sport. But despite being autistic, it did not stop him from learning to play tennis and it has definitely helped him to grow and develop himself even more.
De Niro was Featured on ESPN's Special Olympics: 50 Game Changers'
Elliot De Niro was featured on ESPN as part of the series of short films called 'Special Olympics: 50 Game Changers' that was launched by the sports network in 2018 in coordination with the 50th anniversary of the Special Olympics. These short films included people or different moments in sports that helped and reflected the cause of the Special Olympic Movement.
The short film that featured Elliot playing tennis also included his parents being supportive of his decision to pursue tennis. In the short, his mother Grace said:
"This is the gift you give your child. To be able to succeed with themselves, and give them that motivation, that confidence of knowing who they are. When they have that, they can do so much."
Regarding his son's budding interest in sports, his father, Robert revealed in the short film:
"He is more confident when he sees that he is actually good at this. That's the greatest self-motivator anyone could have."
Elliot's progress ended up inspiring his own mother, Grace who later joined the Special Olympics New York Board of Directors in 2019. She wished that her son's story would inspire families with children with special needs and make them aware that there are so many things these children could do with the support of family and society.
Finding a Friend in Max Richter
Sometimes people find friends in unlikely places. The short film that highlighted the impact of sports on Elliot's journey also showcased his very friendship with Max Richter. A lot of sources claimed that Max Richter in question was a German-born British composer which is absolutely false. Just like Elliot, his friend Max Richter is also a child with special needs.
Both Max and Elliot's mothers urged the boys to talk to each other. Elliot's growth due to tennis motivated Max to start exercising himself and as time went by both of them started to share a connection with each other. As Max's mother Helene mentioned in the short film every parent who has children with special needs worries over their kids not having any friends, the friendship between Elliot and Max has been inspiring to all of those around them.
He has Five Siblings; Raphael, Drena, Julian, Aaron & Helen
Robert De Niro has 6 children with three different women.
Elliot's oldest half-brother, Raphael is a former actor who works in New York real estate. Raphael was Robert De Niro's first biological child with his first wife Diahnne Abbott. Raphael also has settled down and has three children of his own.
During his first marriage, Robert De Niro also adopted his wife's daughter Drena from her previous relationship. Drena also worked as an actor, model, and fashion consultant. She also has a son of her own.
Elliot also has half-twin brothers, Julian and Aaron. His brothers were born through IVF and are mothered by model-turned-actress Toukie Smith. Like Elliot, the twins also rarely appear in the media.
Elliot also has one biological sister, Helen who was born in 2011. She too was born with IVF and delivered by a surrogate.
Elliot's Parents Parted Their Ways Shortly After his Birth
Every child's upbringing is directly impacted by the relationship with their parents. Elliot's father Robert De Niro after separating from his longtime girlfriend and baby mama, Toukie Smith started dating Elliot's mother Grace Hightower. The couple eventually tied the knot in 1997 and welcomed their son a year later. But the relationship between them started to strain and they decided to split up in 1999.
Despite facing problems in their relationship, Elliot's parents never actually got an official divorce. Since they were new parents to Elliot, perhaps both of them wanted to rebuild their broken relationship. In 2004, his parents ended up renewing their marriage vows.
Elliot welcomed his baby sister, Helen in 2011. Although the couple seemed to be doing great raising their kids in a loving home, their relationship somewhere started to suffer again. In November 2018, Robert De Niro and Grace Hightower separated after 20 years of marriage. As of 2020, their divorce settlement case is still ongoing as Grace is demanding more spousal alimony and benefits. They are also having a custody battle over their youngest child, Helen who will be nine in 2020.
Going through your parent's divorce is not a good experience for anyone especially when they are splitting up on bad terms. While we might never know the inner details of the couple, their children are probably suffering from it.