It felt like yesterday when we witnessed the gorgeous Rosamund as Miranda Frost in "Die Another Day." Well, the time does fly when you are that subtle! She has went on to do some brilliant works after that slow rise. Her recent project "I Care A Lot" definitely shows her acting range. But the movie that has stuck with me and I think made Rosamund mainstream has to be "Gone Girl."
I as a cinephile was absolutely taken back with awe when Rosamund Pike took the coveted role of Amy Dunne. The way she pulled off her characterization of feminist with subtle psychopath flavor makes it a gem.
While she was narrating her "Cool Girl" monologue, it was such a chilling moment that made me wonder about her husband in real life. But unlike her character in Gone Girl, she is nothing near the borderline of insanity. Rather she is quite the opposite of her Amy's character. Pike is in a relationship with British Entrepreneur and a Mathematical researcher, Robie Uniacke. And even after a decade of relationship and two sons later, the couple looks to go distance. So who is Robie Uniacke who stole the heart of our beloved "Bond Girl?"
Here is what we know about the 60 year old tall and lanky British guy, Robie Uniacke.
Robie is an "Old Etonion"
Well, fate couldn't have written this better. Pike's first love Simon Woods and Robie Uniacke both went to same college. However, they both are from different batches. Born on the early 1960s in the Hertfordshire, England, Robie Uniacke got his degree from Eton College.
Talking about his experience with Robie in Eton, a family friend remembered Robie as the coolest guy.
"He takes society swans to art exhibitions, educates them a little, and is very charismatic. He still looks very trendy. He was known for being the coolest guy in his year at Eton. Those who were there with him are still in awe of him."
Probably this is why she went head over heels for the guy!
Apart from that, he is also known for his mathematics prowess. Well, a guy who has an IT company in his portfolio would certainly be good at maths. But he is not just good, he is pretty awesome in the calculation parts having published numerous research in the field of mathematics.
Now, we don't want to come to a conclusion this early but we certainly have few valid points that make us believe that this relationship will probably work.
Uniacke and Pike has Two Kids Together, Solo and Atom Uniacke is a Father of Five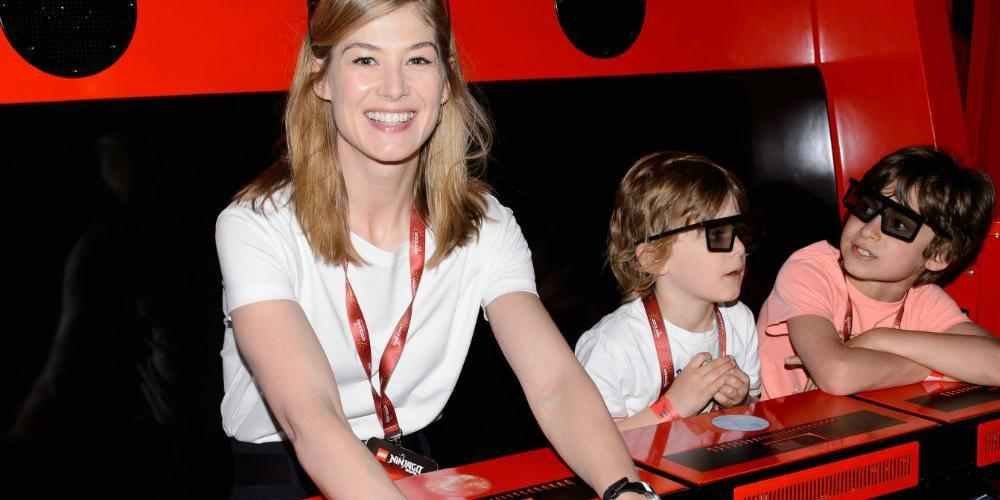 Robie and Rosamund have been together for more than a decade. And although Rosamund is 18 years younger than Robie, it doesn't seem to be an issue for them. The couple is blessed with two beautiful children. Solo Uniacke who is the eldest was born on the 6th of May, 2012, and Atom Uniacke was born in 2014. After the birth of the younger one, she did an interview with Glamour in 2014 where she revealed how being a mom has given her a different perspective on her acting career.
Talking to Kelly and Ryan on their Live Show, she revealed how the two kids are naughty at playing games. She also told the co-hosts that the couple lives in London with their kids but they travel a lot so the boys have grown all over the world.
He already has Four Kids with his two Exes
Before Robie was connecting strings with Rosamund, he had two ill-fated relationships that didn't end well.
Robie was first married to Emma Howard, daughter of the late Earl of Carlisle that ended in 1988. Despite Emma being 8 years older than Robie, they did sustain their marriage for five years. With Emma, he has a son named Robie Jonjo Uniacke.
With his second wife, Rose Batstone who is an interior designer, he shares three beautiful kids named Hector Uniacke, Olive Uniacke, and Florence Uniacke.
Robie Fought through his Serious Heroine Addicion
Robie was an absolute sucker for drugs particularly "Heroine." And, to make matters worse, his wife Emma was also an addict. This led to a tumultuous marriage that ended in a bizarre way. They were both admitted to a rehab facility and later called it quit as a married couple.
Now, his addiction days are way behind him. And, he looks emotionally settled with Rosamund.
He has a Huge Role in Influencing Pike's Movie Choices
While we know Pike for being the "Bond Girl" and "Amy Dunne," little we know that her husband is behind her many role choices. While talking to the Telegraph in 2014, she revealed the importance of her partner, Robie in her script choices.
'I have a very clever partner who's got a very astute mind and is very, very well read and articulate and ruthless about how something I do might play out on screen. My tendency is to identify with a character and imagine there is more on the page than there is. He's quite good at putting a check on that.'
Rosamund Adores Robie Despite their 18 Years Age Gap
Over the years, we have seen many beautiful relationships crumble due to a certain generation gap. But not for this couple. Amid all the Womanizer shots thrown at Robie and their almost two decades age gap, the couple have weathered the storm for over 11 years now. Keeping all his controversial past aside, she loves him with all her heart even calling him the most interesting person she has ever come across.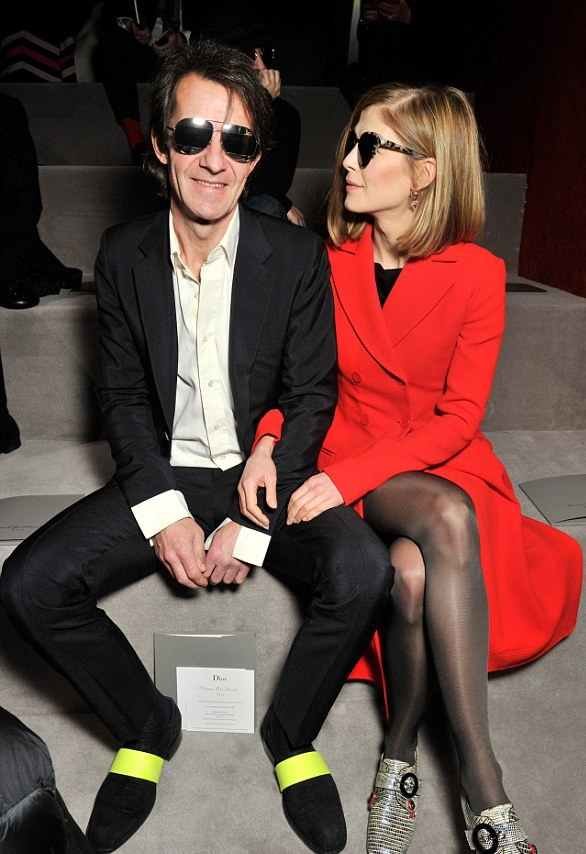 Talking to Telegraph, she was quick to dismiss any doubts people have about the age gap problems.
"The idea that you go for an older man because you think you're less likely to be left by him" She claims that's the biggest pile of crap ever. I have the good fortune of living with a very fearless person, which has been wonderful."
Although they are yet to get married, the love from Rosamund is evident. In a 2012 interview with Vogue, she revealed how she feels within herself. And how happy she is with having a kid out of wedlock.
"It is interesting to break all the rules. I'm not married, I have a baby, and it feels infinitely more right."
Robie and Rosamund Relationship was Probably Written in the Stars
Robie and Rosamund met each other when they both were at a bottom of their love life. Pike first found her love in the eyes of fellow Etonian, Simon Woods while she was still at Oxford. But they soon parted ways when Simon started questioning his sexuality. She then went on to date director, Joe Wright whom she met at the set of Pride And Prejudice.
The couple was so thrilled that they even bought a house together in East London and set the date of their wedding in Italy. But everything felt upside down when a story that Pike sent out 'save the date cards for their wedding floated in the news. Apparently, Wright didn't have any knowledge about it and fumed about the incident, he called the marriage off.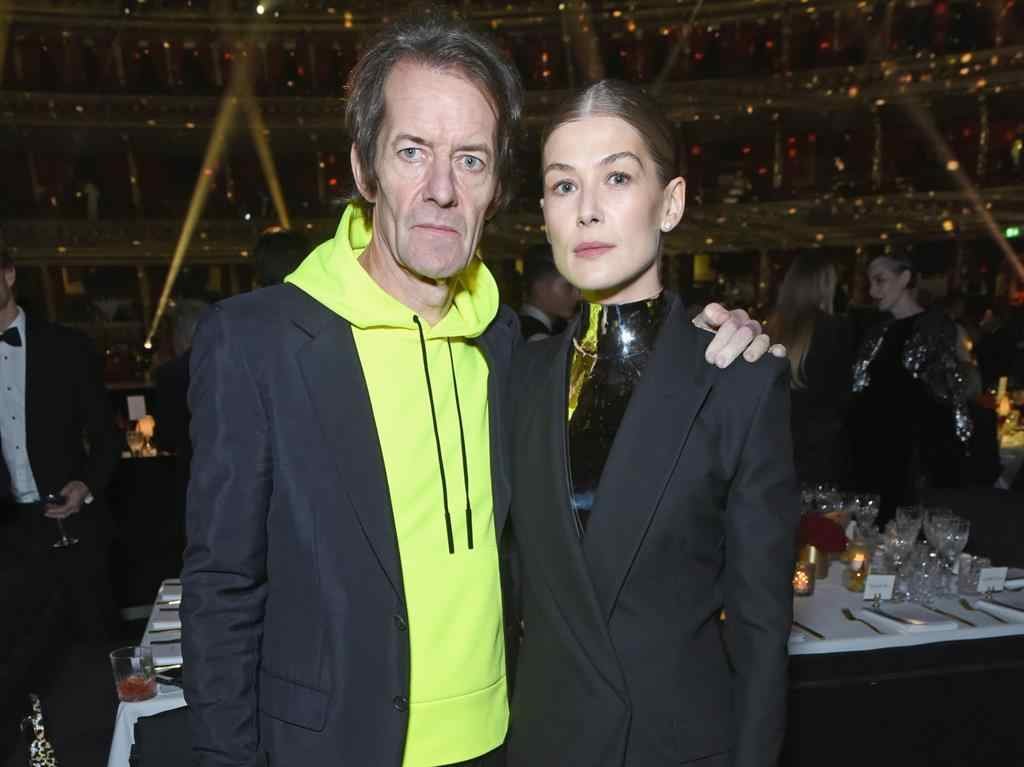 This was a really tough time for Pike having to go through the problematic aspects of canceling a wedding. But everything changed when she met Robie and looks like she has finally found someone with whom she can settle down. A womanizer who dates a younger woman, Robie has also made it clear that he is there to stay. However, he too just like Pike had a patchy love life.
Initially, he was married to Lady Emma Howard which ended in a sad way with both the couple having to take rehab sessions for their addiction. Then he went on to marry Rose Batstone which too ended after a short period.
After two failed relationships, looks like Pike and Uniacke has certainly left their past scars behind. Raising their two kids in London, the couple looks more happier without having to tie in a marriage. And I think that's the best thing to happen for both of them.
He was Absolutely Vilified by His Ex-Lover's Father
Robie, a man having an image of a womanizer and a controversial reputation was once insulted by his lover's angry father Lord Hesketh. Robie shared a brief romantic past with his daughter Sophia who was 24 years younger than her.
As reported, the former junior minister in Margaret Thatcher's and John Major's government was terrified when he learned about their affair. As Hesketh considered Robie as 'totally unsuitable', he offered 500 pounds to shoot Robie as a protective father to save his daughter's future.
Robie has Owned atleast 3 Companies
Talking about the journey to his fruitful career, Robie has had a quite good career and achieved a big success in his active years. Apparently he has been actively involved in creating at least three companies, reports suggest.
The latest one being IT Company Pale Fire Ltd that he started in 2010. Sadly, after almost 6 years, the company was declared insolvent and subsequently dissolved in 2016 due to an inability to clear debts owned.
Though having so many ups and down, Robie faced every challenges and today this name is one of the most familiar in the eyes of media and people around the world. And his present wife, Rosamund Pike always supports him and admires him for the big success of her career.
Uniacke Was Disqualified as a Company Boss for 4 Years.
Just when the media thought Robie has started a clean life away from Heroine, he put himself in another controversy in 2018. Uniacke got dragged by the media and 'Dailymail Uk' reported that after the financial issues, he had been disqualified from the post of company director for four years.
Moreover, there was also saying that he has failed to pay a total amount of £179,602 in taxes to HMRC. From the liquidator's report, his company's account was overdrawn by £133,000. More interestingly, Robie also admitted that he spent almost £144,060 of money for his personal use, £10,514 on mobile phones, and £25,154 on other payments and bank charges.
Will Robie and Rosamund Ever Get Married?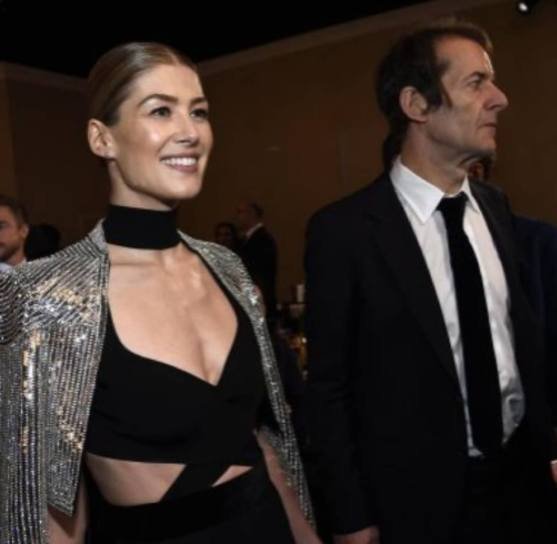 Robie and Rosamund both have had a really tough past. Robie has already faced two failed marriages. And, Rosamund is also suffering on the same boat. Evidently, after 11 years of relationship and two kids later, marriage should have been around the corner. But the couple doesn't feel that way.
Talking about what the future holds for her and Robie, she responded by saying everything felt right even after people commenting on her partner's huge age gap.
'You try to do the right thing and the conventional thing, and it doesn't work, and then you're free again.'
From the looks of it, we can presume that the couple is more than happy without tying in the conventional ceremony. Again, with all the past scars, the couple may want to wait a little longer until the time is right. or, they may choose the route of "Tom Cruise" and "Rita Wilson." Anything is possible!