Saying Al Pacino is the most decorated actor in Hollywood would be an understatement. The veteran actor has reached the moon and back. With the success at his toes, his personal life however has been somewhat of a wreck. He has dated multiple times even being serious with a few. However, his heart doesn't seem to be ready for anyone as of yet. So, the guy is still an eligible bachelor at the age of 81.
But the marriage alone hasn't stopped him from experiencing the happiness of parenthood. He is the father of three with the youngest son 'Anton James Pacino' being just 21. While his father is quite popular in the industry, Anton remains relatively distant. Unlike many other celebrity kids, he literally got zero attention because of how secretive his parents were. So, here we try to unravel everything there is to know about Al Pacino's son Anton Pacino.
| Quick Facts on Anton James Pacino | |
| --- | --- |
| Full Name | Anton James Pacino |
| Born | January 25, 2001 |
| Parents | Al Pacino and Beverly D' Angelo |
| Relationship | Single |
| Siblings | Olivia Pacino (Sister), Julie Marie Pacino (Half-sister) |
| Birth Sign | Aquarius |
| Ethnicity | Caucasian |
| Nationality | American |
| Height | 5 feet 2 inches |
He has a Twin in Olivia Pacino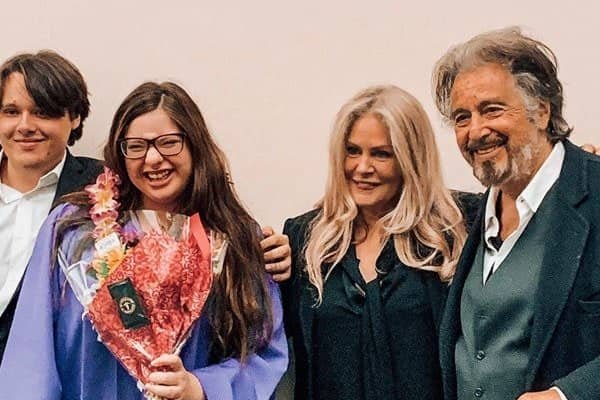 While Anton is the only son of Al he is definitely not the youngest one. In fact, Anton and his beautiful sister Olivia both were born on January 25, 2001. However, who is the oldest among the twin is still unknown.
Saying both the kids were spoiled with privilege would be an understatement. They were raised in Beverly Hills, California in the joint custody of their parents.
In 2000 when the news came out of the blue about Beverly's pregnancy, everyone was surprised. Beverly was 48 at the time and Al was 60. You heard us right! Still, Beverly was able to conceive without any risk adjourned.
In a 2017 exclusive interview with Closer Weekly, she revealed her experience with pregnancy at that time. She told that she had to take an IVF to conceive with minimum risk.
"I got pregnant at 48, delivered six weeks after I was 49, and by 51 I was looking at a landscape as a single parent," explained Beverly.
Now Anton and Olivia both are 20 and Al and Beverly have tried to keep both the kids from the limelight. There were occasions when Anton was picked by the media wandering around the streets of LA with his dad. But as he has grown up he hardly makes any notable appearance in the events. He has definitely kept his life private.
Pacino Wanted Beverly to be the Mother of his child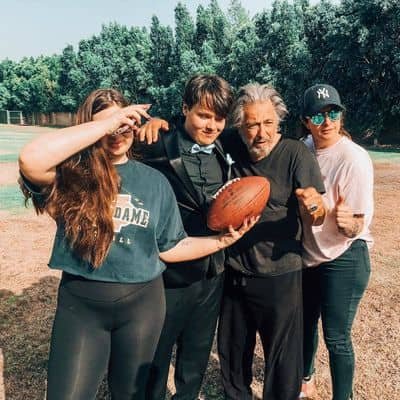 According to D'Angelo, becoming a mother at 48 was never a plan. She wanted to live in the moment with her then-boyfriend Al Pacino. She revealed how she was lured into motherhood by Pacino's love for her and the kids.
She shared her view and told that "I had a fantasy that when you have kids, you do it in a family setting. After we'd known each other for three months. Al looked me in the eyes and said I want you to be the mother of my children. That's all I had to hear."
However, the happiness was short-lived. Soon after Anton was just 2 they were fighting in court for their custody.
Talking about Beverly's view after break up and her journey as a mother, she said, "I got pregnant at 48, delivered six weeks after I was 49, and by 51 I was looking at the landscape as a single parent."
Pacino Sued Beverly over the Twins
In 2003 Pacino sued for the custody of their kids which started a messy battle. According to the court papers, Al Pacino filed suit against his girlfriend and mother of two for custody or visitation rights. According to the New York Daily News, Pacino filed a lawsuit in Manhattan Family Court on Jan. 23.
On the day of the hearing, the lawyers from both sides went back and forth taking jabs at each other. Beverly's camp fired shots by accusing Pacino of harassment and being a bad father who didn't change a single diaper of the kid. Pacino's side on the other claimed that Beverly was using kids as her shield making them hostages.
The battle was gruesome, to say the least. But finally, the two decided to reconcile and agreed on joint custody. This was the best for their kids for sure.
Anton's Star Parents─ Al Pacino and Beverly D'Angelo
When talking about his adorable parents, this beautiful couple Al Pacino and Beverly D'Angelo are unmarried yet. Though Alfredo and Beverly were blessed with two lovable kids, they still haven't enjoyed their wedding vow. However, they started their relationship in 1996 and in the world of entertainment, this couple is known as one of the best couples in Hollywood fame. But sadly, this couple didn't make their relationship successful.
Today they are only known as good friends and share their children's custody. Before having a romantic relationship with Beverly, Alfredo was a divorced guy. He previously married Coach Jane Tarrant and had one beautiful daughter named Julie Marie Pacino. Later, their married life didn't last forever and finally decided to split up. Now, Al Pacino is spending his beautiful time with his lovely children.
Now let's briefly talk about Anton's Iconic Parents, Al Pacino and Beverly D'Angelo. Al Pacino is the name that automatically comes up in everyone's mind when the top Hollywood actors are reckoned. More than this, he is the Oscar and Golden Globe Awards achiever born in 1940 to beautiful parents Sylvester and Rose Pacino. To this date, he gave his five decades in the field of entertainment. In his entire career, he has gathered almost every award and achievement. And he is known to be the "Triple Crown of Acting". He has given a marvellous performance till today. And mostly he was found widespread in movies like The Godfather, The Panic in the Needle, Scarface, Scent of a Woman, Angels in America and so on.
Moving on to the gorgeous Beverly D'Angelo, though she is not known much like her husband, however, she is famous for her acting and singing career. She was born on November 15, 1951, in Columbus, Ohio, the United States of America as the daughter of Eugene D'Angelo and Priscilla D'Angelo. She started her career as an actor in 1976 and gave her marvellous acting in more than 60 movies. She gave her best performance in the movies like Coal Miner's Daughter, Vegas Vacation, American History X, The Unicorn, Frat Pack and so on. Not only in the movies but also appeared in famous shows like Captain and the Kings, The Simpsons, Mom, Shooter and Insatiable.
Anton also has a half-sister
Before his relationship with Anton's mother Beverly, Al Pacino was linked with numerous women and one of them was the acting coach Jan Tarrant. The two started dating sometime during the mid-eighties however called it quits soon after. But the relationship became fruitful to both of them as they became new parents to daughter Julie Marie Pacino who was born on October 16, 1989. Anton's half-sister Julie has been following her parents footsteps into the world of filmmaking as a producer and director. Some of her works include the likes of Hard Work, Nowhere to go and Nadia Jaan. Even though the siblings have a decade-long age-gap between them, the three of them seem to have good relationships with one another and are oftentimes seen together in photos shared on their social media and also accompanying their father in different events.
Anton is much more private than his other siblings
Being a celebrity child is much harder than one can imagine. Even before they are born, these children are thrust upon media limelight. So, it's no wonder that some of these celebrity kids try to live a private life. The same can be said about Anton James Pacino. Unlike his two sisters, who enjoy sharing tidbits of their private lives on social media, Anton does not share the same hobby. Because of this, the only time people get a rare glimpse of him are when he attends formal events with his family.