Oh, Stevie! You poor little guy!
Who can forget the 2015 "Miss Universe" dodgy mishap? The cynical accident made by Stevie led to a plethora of controversies and online trolls. The guy known for his comic timing would have never thought of making people laugh the wrong way! Well, we all make mistakes. But, it's all about learning from it and being a better man. And, this is exactly what Steve Harvey did in his personal life when he married Marjorie Elaine Harvey. After two failed marriages, Steve made a home run when he married Marjorie in 2007.
Amid all the controversies and splitting rumors, the couple has held it together and going stronger. And a good share of credit goes to Stevie's wife Marjorie. So, who exactly is Marjorie Elaine Harvey? Let's go in-depth about Marjorie and Steve's ongoing journey.
FAQ About Marjorie
How did Majorie and Steve Meet?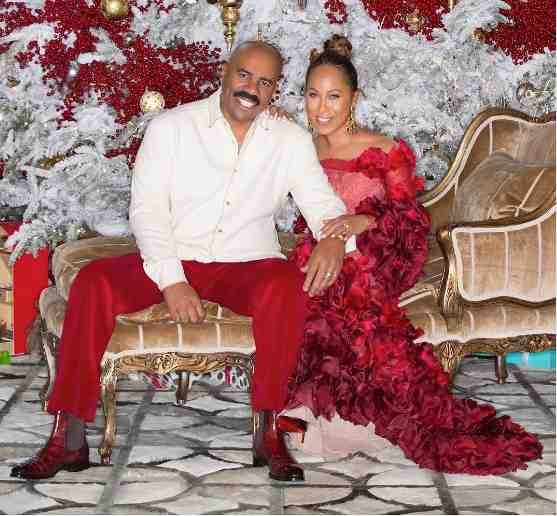 Their story dates back to 1990 when Steve was doing a show at a comedy club in Memphis, Tennessee. And, eventually, Majorie was one of his audiences. While she was making her way to the seat, Steve's eyes got stuck at Majorie and he stopped for a while. The moment he saw her, he fell in love with her. In an interview, Harvey revealed about their first meeting and commented:
"From the moment I saw you when you walked into that comedy club that night, and the first thing I said to you ever was 'I don't know who you are, lady. But I'm gonna marry you one day."
But, Marjorie didn't know the statement was dedicated to her unless she started dating Harvey. Their relationship took a bit time to get started as Steve wasn't available at that time. He was still married to his second wife Mary Shackelford. However, after few meetings, they couldn't hold their emotions and started dating.
The Duo Reconciled Their Love After a Gap
Like most relationships, their love story wasn't obstacle-free. During their initial days of dating, Harvey was neither settled in her career nor was financially settled. Therefore, he opted to disappear from Majorie's life. The fashion module shared her side of the story as:
I knew he was the one shortly after I started dating him but he the just left…disappeared.
Eventually, the duo again reconciled their relationship in 2005 after staying as a stranger for some years. By that time, Steve had ended his second marriage with Mary Lee Harvey. And Marjorie was also living a divorcee life. So, as soon as Steve got to know about Marjorie's doomed marriage, he took his flight to Memphis and the rest is all history. Then, the duo dated for two years before getting married in a private ceremony.
Marjorie and Steve's Marriage: The Third Time is the Charm
As said the third time is the charm, it turns out to be true for Steve and his love Marjorie. Steve finally got his soulmate in the third go after passing through two failed marriages earlier. After dating for a while, the pair got hitched on June 25, 2007. Their wedding ceremony was a private affair that included only close friends and family in their guest list. Since then Marjorie and Steve are sharing a happy marriage. The duo will soon be celebrating its 14th anniversary on the 25th of June.
Marjorie commented about their time before getting married in an interview with Essence and said:
"We were friends. We dated years ago and I think it was the long-distance more than anything with Steve and I that made us go our separate ways. Nothing happened. He didn't break my heart. I didn't break his heart. It was just a long-distance relationship and someone would have had to make a decision back then. No one made a move. But it didn't mean we didn't care, it's just sometimes life gets in the wat. Obviously, it wasn't the perfect timing or it would have happened.
Their relationship has proved age is just a number as Marjorie is eight years older than Steve. But, that doesn't matter as long as they are happy together and understand each other's thoughts.
Marjorie's Life Before Meeting Steve
Marjorie was born as Majorie Elaine Ridge on October 10, 1964, in the USA. She was born to mother Doris BriCareer. Meanwhile, she hasn't broken any details related to her father. She spent most of her early days with her parents and brother before moving to college.
As for education, after completing high school, she further went to the University of Memphis in Memphis, Tennesse. However, she dropped out of college without completing the course due to her rebellious nature. She wasn't good at grades either.
As time passed by, she picked up interest in the fashion world and decided to chase it as a career.
She Works in the Fashion Business
Apart from being known as the third wife of Steve, she has something to her fame on her own. She is a renowned fashion entrepreneur who has carved her name as a successful woman in this era.
Marjorie started her homework to build her career in the fashion world as soon as she dropped out of the University. After dropping out of college, she spent her time researching the fashion world. She traveled around the world to attend different fashion shows to enlarge her knowledge about the glamour industry.
After gaining some insights, she kick-started her career through a fashion blog "The Lady Loves Couture" in June 2007. On the blog, she shared tips about fashion, on empowering women, secrets to the beauties of the world, and about her fashion tours.
Started from the bottom, she slowly walked the staircase of success. She then thought of commercializing her interest and launched an online shopping website "Marjorie Harvey handbags and Marjorie Harvey's closet". The online platform is popular for its handbags and clothes designed by Majorie herself. This website has been the greatest milestone she has achieved so far.
With the success of her own line of the brand, she became a fashion entrepreneur carving her name in the fashion industry forever. Marjorie has attended various fashion shows including Milan's Fashion Weeks in Paris. Apart from this, she is the founder of the Steve and Marjorie Harvey Foundation. The organization aims to improve the living standard of children and families all around the world.
Even though she is successful, her success has been overshadowed by her relationship with Steve Harvey. Marjorie's relationship with the comedian has added more power to her stardom.
Marjorie Passed Through Two Failed Marriages Before Involving With Steve
Before she hooked up with Steve, Marjorie was already married to two different guys just like the comedian. She was first married to Jimmy L.Townsend who was 23 years older than him. The duo shared a happy relationship until it was found that he was a Memphis drug dealer. As Jimmy was sentenced to life imprisonment after finding guilty, she filed a divorce and moved on.
Later on, she again got married to Daniel Woods, one of the famous infamous drug Woods brothers. The couple had three children: Jason, Lori, and Morgan from their courtship. Unfortunately, the second time also didn't work for Marjorie. Daniel was also charged for drug cases and all of his property and club were frozen. Marjorie sold the club to Todd Day, a famous NBA player, and moved on.
Both marriages ended for good as she finally found her true love, Steve Harvey, in the third go. Likewise, Steve was also married to Marcia Harvey and Mary Lee Harvey before he got married to Marjorie. Today Marjorie and Steve are living happily with their blended family raising seven kids together from their previous relationships.
Marjorie and Steve Are Together Raising Their 7 Children From Past-Affairs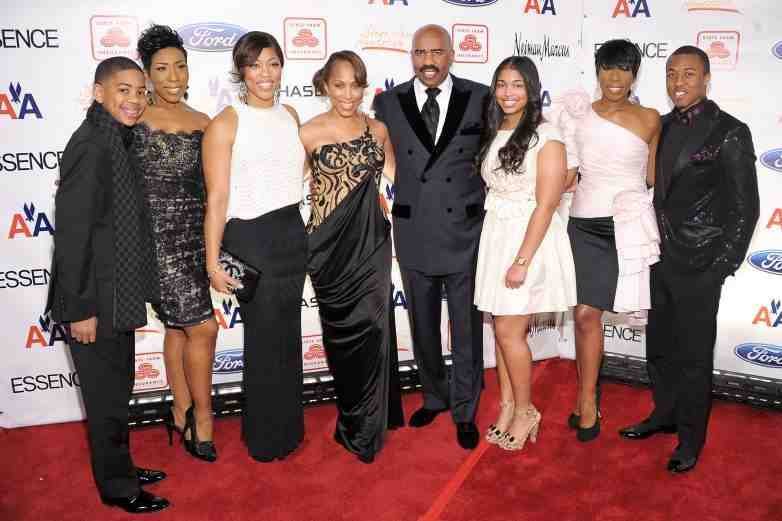 Marjorie and Steve do not have biological children. However, they are together raising seven kids from their previous marriages. Steve has four children from his past relationships namely Wynton (1997) from his second wife, Mary Lee, and twins Karli and Brandi (1982) and Broderick Jr. (1991) from his first wife, Marcia Harvey.
Likewise, Marjorie has three children from her first marriage. Upon being married to Steve, her children Lori, Jason, and Marcia have adopted his last name, Harvey. Everyone in the family shares a great bonding and is living happily. Marjorie makes sure everyone's needs and sentiments are addressed. She shared a few words about her blended family and said:
"When you're dealing with a blended family, everyone is coming from a place of broken. We knew this was right. But I just told them, 'Everyone is included. Everyone has access to their parents. Whatever you didn't have before, don't let that interfere with what you can have now."
The family recently celebrated Father's day where they were spotted enjoying brunch together. Marjorie posted a picture of Steve and her kids celebrating Father's day on her Instagram where everyone looked happy.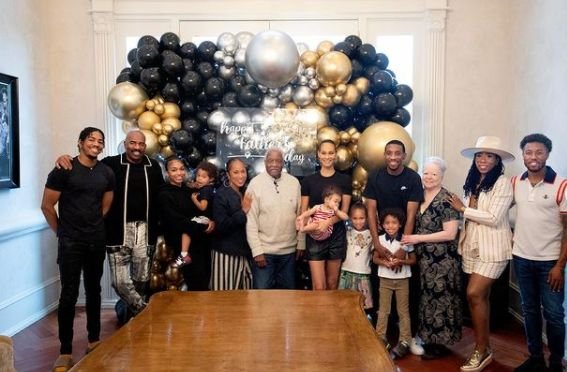 Has Marjorie and Steve Parted Their Ways?
Though Marjorie was having a healthy relationship with Steve, their divorce rumors flawed in the media. In 2018, the Radaronline.com covered the news that said the couple was on the way to the court for filing a divorce.
There were rumors that Marjorie filed the divorce because Steve was getting close with co-star Kris Jenner. Fortunately, the rumors turned out to be false which was revealed by Steve in an interview with Altlanta Journal-Constitution. Talking about the rumors, he said:
They act like I don't have a family. They act like my kids can't read. They don't care. They just go out to destroy people with no facts behind it.
Their relationship is growing deeper and deeper with the passing of time. Both of them work on minimizing their differences to make their relationship even better.
Presence on Social Media and Net Worth
How can the fashionista resist her from making a presence on social networking platforms? The fashion entrepreneur and the wife of an ace comedian are most popular on Instagram with 2.3 million followers. Her pictures shared on the account depict her way of living life and her fashion sense.
Marjorie contributes to her net fortune from her fashion blog Lady Loves Couture and her online website. As of 2021. her net worth is estimated to be around $60 million. 
Her Daughter Lori is Dating Michael B Jordan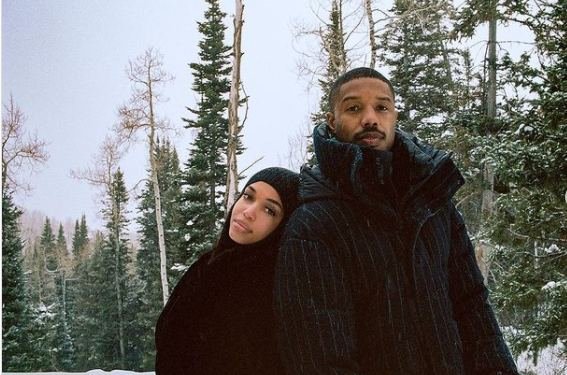 Marjorie's daughter Lori Harvey has been in the news in recent days following her relationship with Michael B. Jordan. The rumors of their affair flawed in the media last November when the duo was spotted together in Atlanta as reported by TMZ. Further, they were captured celebrating New Year's eve together in Salt Lake City.
After a lot of speculations, the duo finally admitted their love to the world. In January 2012, Lori and the Black Panther Actor Michael made things public by posting a picture of them on Instagram. In an interview with Bustle, Lori Harvey talked about her relationship with Micahel B. Jordan. She told the outlet that this time she is really serious about the relationship and she feels something more special for Jordan which she never had felt before. She said:
I think just as I've gotten older and interest change, I think this was something that I just decided to be a little bit more public with because it's more serious relationship. So I'm just handling it differently.