Al Pacino is undoubtedly one of the most decorated actors of his generation. Let me put it in a simple way – He's the precious gem of Hollywood. While many believe his portrayal of 'Michael Corleone' is his best, I've always found myself blown away by his role in the 'Scent of a Woman.' Don't know why they put that title though. His nonchalant demeanour and dialogue delivery had always given me chills.
The guy has found success by leaps and bounds. But the one department he has been struggling to keep on with is his love life. The explosive actor has fallen in love several times but he doesn't seem to have the grit to tie one woman down. Although his search for the right woman continues, he seeks comfort in his kids, Julie and the twins Anton, and Olivia Rose Pacino. He particularly adores Olivia who is the youngest of the bunch.
But Pacino has been very private about his kids. He isn't comfortable with talk shows or pushing personal information. So we aren't left with any. But we have tried to decipher everything that is available about the 20-year-old Olivia Pacino.
Olivia is the Youngest of the Twin

Olivia Rose Pacino and twin brother Anton James Pacino were born on January 21, 2001, to Al Pacino and Beverly D'Angelo. She is the granddaughter of famous architect Howard Dwight, the designer of Ohio Stadium. To say that she was born with a silver spoon would be an understatement. Although she is 20 now and has turned out to be a beautiful lady, Al and Beverly tried to keep her away from media attention. She rarely made it to any events when she was a child giving few chances for the media to catch up.
Talking to Closer Weekly, Beverly revealed that she took IVF to conceive the kids at 49.
"I got pregnant at 48, delivered six weeks after I was 49, and by 51 I was looking at a landscape as a single parent," explained Beverly.
Unlike many, Olivia found herself back and forth between her two parents as their parents split when she was only 2.
Olivia Had a Learning Disability
Olivia is a fresh graduate of Fusion Academy Miracle Mile. The academy is a private school providing over 250 courses to those students struggling in traditional schools. The one-to-one approach to teaching provides middle and high school experience for children in Los Angeles.
Olivia has completed her school with good grades, but it was not always like that. Prior she used to have learning difficulties and she felt like a competition with her brother Anton in terms of marks. But, things got changed when she was enrolled at Fusion Academy by Beverly.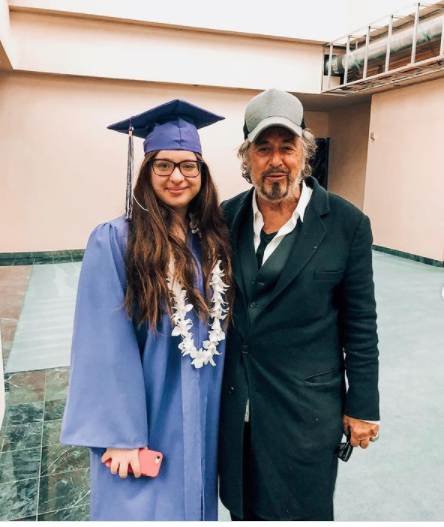 In a video, she spoke about her experience with the Fusion Academy. She revealed how one-on-one lessons and counselling changed her dynamics of learning.
The fresh graduate is yet to decide what she is going to do in her life. Whatever she will decide, her parents will always support her.
Olivia has been Dating Ryan Harley for Almost 3 Years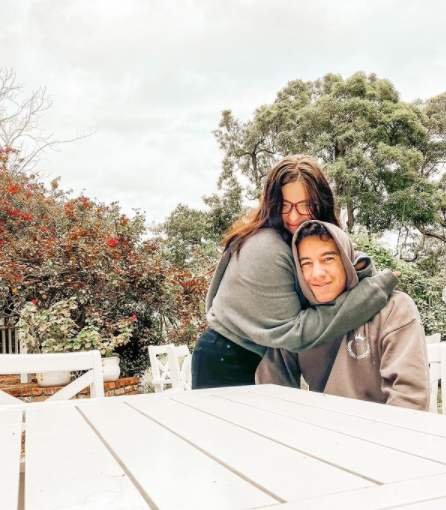 The high school graduate is deeply in love with-struggling rapper Ryan Harley. The couple doesn't skip a beat to flaunt their love for each other. Mentioned as 'NoName' and the boy of 'Olivia Pacino,' he calls himself a producer in his Instagram bio.
You can listen to his tracks through his link tree channel as well on his Youtube channel. You can also follow him on Instagram with a handle at nonamemadeit.
She is quite sure about her relationship and doesn't hesitate to talk about her boyfriend. Her Instagram posts are filled with adorable photos of the duo and we can't stop adoring them. She nonchalantly posts about her yearly anniversary. On November 4, 2020, she posted a picture of the couple together with the caption '2 years with you.' So we can assume that she started dating him in 2018. This means she was 17 back then! Very young for dating though. Don't know how her parents felt about this.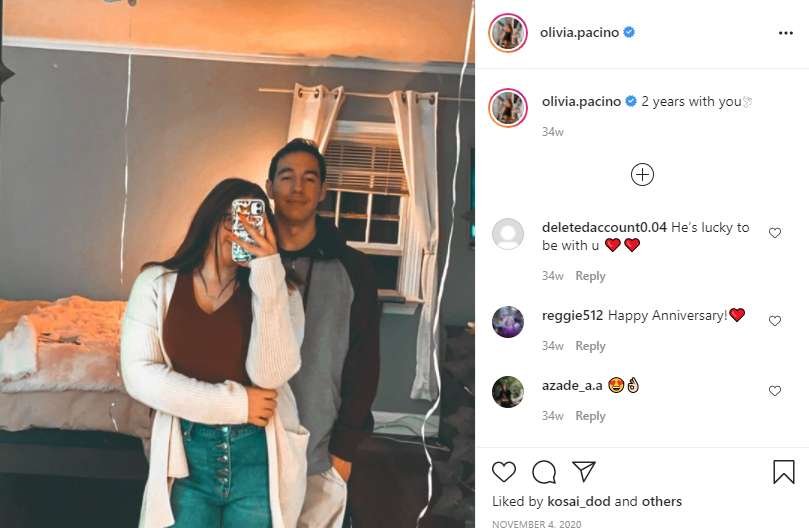 As far as how they met is concerned various sources claim that they met through an online dating app "Ok cupid".
We actually learned a lot about Harvey from the Q&A session they did on Instagram. From the session, we know that Ryan has already met Olivia's family. He is also a fresh graduate just like Olivia. They are planning to focus on their respective career and get a place of their own in the future.
Also through her Instagram, we came to know that she had been living with him for a while now. When a follower asked her if the picture was before lockdown and she should stay inside during the time, she commented by saying they live together and are quarantined.
She also has a few cute names for her boyfriend like 'Bub.'
While we don't know how his father reacted to her relationship, she probably has his full support of her. But this hasn't stopped her followers from asking about her father's view. Anyways, we hope her relationship with her boyfriend Ryan will long live, unlike her parents' relationship.
Al Pacino Wanted Beverly to be the Mother of his kids
While talking to Closer in an interview, Beverly told why she decided to get pregnant at an age of 48. Well, she was in love of course but it was Pacino that convinced her.
"I had a fantasy that when you have kids, you do it in a family setting," Beverly, explained to Closer. "After we'd known each other for three months, [Al] looked me in the eyes and said, 'I want you to be the mother of my children.' That's all I had to hear."

Sadly, it was a sharp turn from being the mother of my child to fighting for custody. But hey! it is what it is. You can't control something that's beyond your reach.
She described how her life turned upside down in a matter of a few years.
"I got pregnant at 48, delivered six weeks after I was 49, and by 51, I was looking at a landscape as a single parent," she explained her experience of raising the kids.
Her Parents Parted Ways When she was Just Two Years old
Al Pacino and Beverly D'Angelo both have walked down the aisle but with different partners. Before they met each other, they both have a failed marriage. Al Pacino was married to acting coach Jan Tarrant while D'Angelo was married to an Italian actor Lorenzo Salvati for 14 years.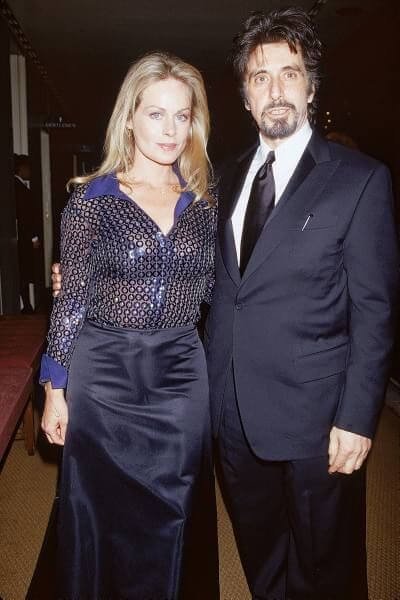 Olivia's parents remained in a relationship from 1996 to 2003. They were one of the ideal couples of the town. Everything between the couple seemed to be perfect from the outside. But, the story was different behind the curtains. Soon after they gave birth to Olivia and Anton, they parted ways. However, they never exchanged wedding vows. When Olivia and Anton were just two years old, the couple decided to call it quits.
Custody Battle Between Alfredo and Beverly Turned Out to be the Ugliest
This started one of the messiest custody battles with allegations thrown left, right, and centre. A lawyer from Beverly's corner pushed the argument stating that Pacino was "a controlling, harassing man who has never changed a single diaper." In retaliation, Al Pacino's camp fired back by stating "Beverly continues to use the kids in a way that almost makes them hostages."
It was a heated battle for sure!
After going through a series of back-and-forth jabs, Al Pacino and Beverly decided to bury the hatchet. They both agreed on joint custody and are good friends now.
She explained how her relationship with Al has changed her life. Talking about her experience she said, "how vital acceptance is." "We all have a desire to change things that we don't like, but you can't change another person," she explained to Closer.
Al Pacino also has a daughter named Julie Marie Pacino born on October 16, 1989, from his previous relationship with Jan. The three kids are often seen together at events and holidays.
Olivia's Father Alfredo Pacino Holds 'Triple Crown of Acting'
Actor Al Pacino has completed his 50 years in Hollywood now. Alfredo who began his acting career in theatrical acting was caught by director Francis Ford Coppola via his work in the movie The Panic in the Needle. His career reached a new height of success when Francis cast him in the movie The Godfather. The movie turned out to be a hit at the box office and was considered one of the greatest movies of all time.
Recently, Al along with director Francis and co-actor Robert De Niro were honoured at the 94th Annual Academy Awards to celebrate the iconic crime drama's 50th anniversary. In an interview with The New York Times, he revealed how fortunate he was to be a part of the movie and how his life changed after the release of the movie. He said:
It's hard to explain in today's world explain who I was at that time and the bolt of lightning that it was. I felt like, all of a sudden, some veil was lifted and all eyes were on me. Of course, they were on others in the film. But, 'The Godfather' gave me a new identity that was hard for me to cope with.
His notable works include movies like Scarface, Scent of a Woman, Angels in America, Any Given Sunday, Paterno, Once Upon a Time in Hollywood, The Irishman, and many more on the list.
Her Half-sister Julie Marie Pacino Also Works in Hollywood
Julie is one of the rising film producers, screenwriters, and directors. She has worked in the movies like Tura, Phoenix, and Shifting Past. She claims her greatest source of inspiration to be her parents. Julie thought of making a career in the industry when her parents gifted her a Video Camera on her birthday. In an interview, she shared her story and stated:
"I've always had a passion for filmmaking. As a child, I was always making little shorts with my friends and writing stories to act out. Making movies and watching movies are always very therapeutic for me. I liked being sucked into a story, falling in love with different characters and ultimately earning something about my own desires and myself."
Olivia's sister Julie Got Arrested in a DUI case
Olivia is too young to make controversies and rumours. But, once she got dragged into a controversy due to her half-sister Julie. Back in the year 2011, Julie Pacino was arrested in a drinking and driving case. She was caught by police at West Houston Street. While testing her Breathalyzer, she was found drunk. Further, she told that she drank three bottles of beer and also had smoked marijuana.
She then got arrested and was charged with DWI. As the news of her arrest got flashed, she felt guilty. In an interview with New York Post, she told:
"It was a big mistake. I never want it to happen again."
Olivia Gives Glimpses of her Personal Life on Instagram
Olivia has made her presence on Instagram since 2019. She never hesitates to share what's going on in her life with her posts. Whether it's about a date with a boyfriend or celebrating Christmas with family together, she always gives insights about her whereabouts. She also had a YouTube Channel where she posted her moments with Ryan Harvey but now the channel is deleted.
Being the daughter of one of the most decorated actors comes with its perks as well as despairs. She might have got the attention she never wanted growing up as a kid. Many fans seem to be really nasty about her weight which isn't something you want to hear as a child. As of now, she looks happy and absolutely in love. We just hope she gets the best from her life.