Alfredo James Pacino is one of the hottest guys of his era. He has won the hearts of many girls with his flirty nature. While he has walked down the aisle with only one,  he has kids born from two different mothers. We are here talking about Olivia Pacino who is the offspring of Alfredo with his ex-partner Beverly D'Angelo.
FAQ on Olivia Pacino
Who is Olivia Pacino?

Olivia Rose Pacino is the daughter of Alfredo Pacino and his ex-partner, Beverly D'Angelo.

Where is Olivia currently living?

As of now, she is residing on California.

Why did Al Pacino and Beverly get seperated?

Though exact reason behind their separation is unknown, Beverly has accused Al Pacino for his controlling behaviour. Likewise, Alfredo also spoke about Beverly using his child as hostages during their custody battle. Perhaps their opposite thoughts where the reason behind their failed relationship.
Olivia's Early Life 

Olivia Rose Pacino and twin brother  Anton James Pacino was born on January 21, 2001, in the United States of America to Al Pacino and Beverly D'Angelo. She is the granddaughter of famous architect Howard Dwight, the designer of Ohio Stadium. Ever since her birth, she had spotlights above her head. But, her parents have been successful in keeping her away from Hollywood fame.
Just like every other child, Olivia grew up in the laps of her parents. Al Pacino and Beverly have always tried to protect her childhood from the media tantrums. As she was born with a silver spoon on the mouth, she must have got everything she wanted as a child.
Educational Background: Learning Difficulties
Olivia is a fresh graduate of Fusion Academy Miracle Mile. The academy is a private school providing over 250 courses to those students struggling in traditional schools. The one-to-one approach of teaching provides middle and high school experience for children in Los Angeles. 
Olivia has completed her school with good grades, but it was not always like that. Prior she used to have learning difficulties and she felt like a competition with her brother Anton in terms of marks. But, things got changed when she was enrolled at Fusion Academy by Beverly. 
In a video, she spoke about her experience with the Fusion Academy. She revealed how one-on-one lessons and counseling changed her dynamics of learning. 
The fresh graduate is yet to decide what's she is going to do in her life. Whatever she will decide, her parents will always support her.
Personal Life: Love Life with Ryan Harley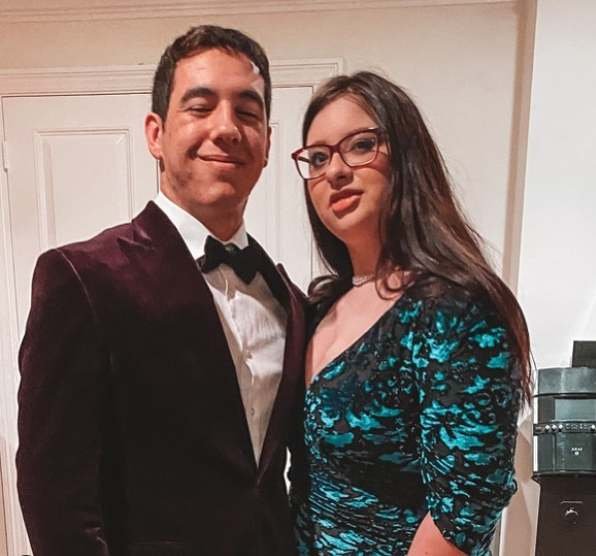 The high school graduate is deeply in love with-struggling rapper Ryan Harley. You can listen to his tracks on the website 'beatstars' as well on his Youtube channel. You can also follow him on Instagram with handle at nonamemadeit.
She is quite sure about her relationship and doesn't hesitate to talk about her boyfriend. Her Instagram posts are filled with adorable photos of the duo and we can't stop adoring them. There are no details regarding how long they have been dating. But, we do know they met through an online dating app "Ok cupid". 
We got to learn more about Harvey from the Q&A session they did on Instagram. From the session, we got to learn that Ryan has already met Olivia's family. He is also a fresh graduate just like Olivia. They are planning to focus on their respective career and get a place of their own in the future.
We hope her relationship with her boyfriend Ryan will long live, unlike her parents' relationship. 
Olivia Parents: Al Pacino and Beverly D'Angelo
Olivia dragged the public attention towards her just because she was born as a celebrity kid. Born to Oscar and Golden Globe Awards Achiever Al Pacino and Hollywood Actress and singer Beverly D'Angelo have made her popular worldwide.
Her father Al Pacino was born in 1940 to parents Sylvester and Rose Pacino. The actor has spent five decades in the entertainment field. Over this time,  he has received a lot of awards and achievements for his contribution to the entertainment industry.  He has even been titled "Triple Crown of Acting". His notable works include movies like The Godfather, The Panic in the Needle, Scarface, Scent of a Woman, Angels in America, and so on.

Though Beverly hasn't achieved the height of success her partner has , she has performed well in her own field of expertise. She is a singer and an actress born as the daughter of Eugene D'Angelo and Priscilla D'Angelo on November 15, 1951, in Columbus, Ohio, USA. She debuted in the entertainment industry in 1976 with the theater show Rockabye Hamlet.
Beverly D'Angelo has appeared in almost more than 60 movies in her career to date. She has shown her talent in movies like Coal Miner's Daughter, Vegas Vacation, American History X, The Unicorn, Frat Pack, and so on. Also, she has appeared on television shows like Captain and the Kings, The Simpsons, Mom, Shooter and Insatiable.
Relationship Status of Olivia's Parents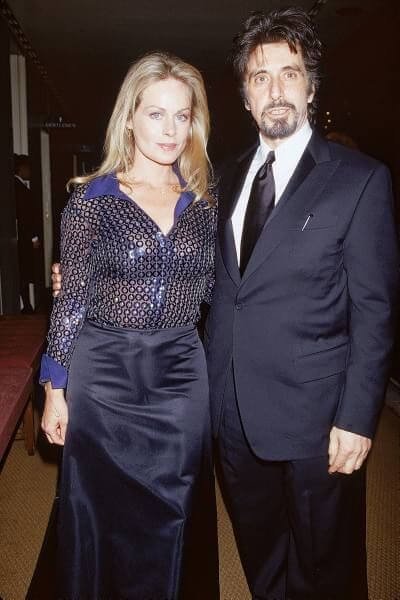 Al Pacino and Beverly D'Angelo both have walked down the aisle but with different partners. Before they met each other, they both have a failed marriage. Al Pacino was married to acting coach Jan Tarrant while D'Angelo was married to an Italian actor Lorenzo Salvati for 14 years.
Olivia's parents remained in relationship from 1996 to 2003. They were one of the ideal couples of the town. Everything between the couple seemed to be perfect from outside. But, the story was different behind the curtains. Soon after they gave birth to Olivia and Anton, they parted their ways. However, they have never exchanged the wedding vows.
They met at the court only for the custody battle. After going through a ugly custody battle, Al Pacino and Beverly decided to share the joint custody of the children. The former couple ignored their personal differences for the sake of Olivia and Anton's welfare. They are captured spending time together with their children as a happy family.
Likewise, Al Pacino has a daughter Julie Marie Pacino born on October 16, 1989 from his previous relationship with Jan.
Half-sister Julie Marie Pacino
Julie is one of the rising film producer, screenwriter, and director. She has worked in the movies like Tura, Phoenix, and Shifting Past. She claims her greatest source of inspiration to be her parents. Julie thought of making a career in the industry when parents gifted a Video Camera on her birthday. In an interview she shared her story and stated:
"I've always had a passion for filmmaking. As a child, I was always making little shorts with my friends and writing stories to act out. Making movies and watching movies are always very therapeutic for me. I liked being sucked into a story, falling in love with different characters and ultimately earning something about my own desires and myself."
Rumors & Controversies
Olivia is too young to make controversies and rumors. But, one she got dragged in a controversy due to her half-sister Julie. Back in the year 2011, Julie Pacino was arrested in drinking and driving case. She was caught by police at a West Houston Street. While testing Breathalyzer, she was found drunk. Further, she told that she drank three bottles of beer and also had smoked marijuana.
She then got arrested and was charged with DWI. As the news of her arrest got flashed, she felt guilty. In an interview with New York Post, she told:
"It was a big mistake. I never want it to happen again."
Social Media Presence
Olivia has made her presence in Instagram since 2019. She never hesitates to share what's going in her life with her posts. Whether it's about a date with boyfriend or celebrating Christmas with family together, she always gives insights about her whereabouts. Besides, she has also a YouTube Channel where she keeps on posting her moments with Ryan Harvey.