Before Michael Douglas got hitched to Catherine Zeta-Jones, he was married to Diandra Luker. Whenever we hear the name Diandra, it's either because of Michael or Cameron. While she is a producer and an actress, she got more closer to fame following her divorce with Michael. Let us find about this lady who spent 18 years of her life with Michael Douglas.
Early Background
Diandra Luker was born in 1956 on a small island in Majorca, Spain. However, her exact birth of date is not known. Her father was a United States Ambassador to Switzerland while her mother was an archeologist. Diandra's mother owned a family property on Majorca. She had a fairytale childhood. But, she deprived getting father's love and care as her father passed away when she was a child.
She grew up in Spain before shifting to Switzerland and the USA. As a child, she had traveled to different places around the world due to her father's profession. Her childhood revolved around writers, painters, and archeologists.
She had attended different boarding schools as she had to travel to new places every time with her family. At the age of nine, she attended a local school in Santa Barbara. After completing high school, she moved to Washington to walk in her father's diplomatic footsteps. With this intention, she enrolled at Georgetown's University Edmund A. Wash School of Foreign Service. She even completed a summer internship at the White House. Her thoughts on making her career in foreign service got changed as she gained the first-hand experience in the real field. She said:
"But little by little I started to change my ideas about going into the Foreign Service. Then I met Michael."
Beginning of Love Story With Michael Douglas
Diandra met Michael just at the age of 19 when she was a college-going student. The teenager and the actor met at Wash School. Michael was in the town for promoting his 1975 movie "One Flew Over The Cuckoo's Nest". After the movie won five academy awards, Douglas along with actor Jack Nicholson were on the promotional tour. In Washington, they attended the swearing ceremony of president Jimmy Carter and eventually he crossed his path with Diandra Luker.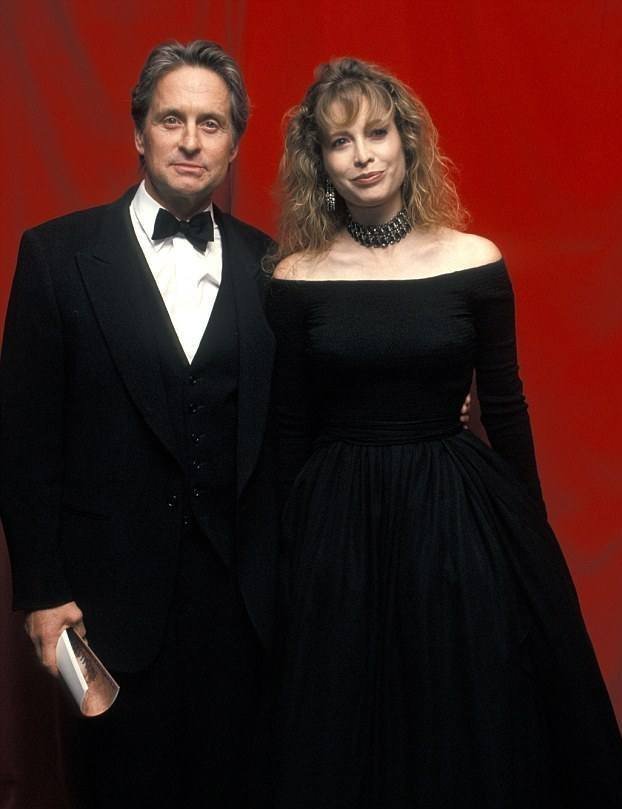 At the time, Luker met Douglas, she had no idea who he was. She knew about Michael's stardom after spending two days with him. Luker was shocked and surprised to learn the truth about him. It must have been quite awkward for Luker as one of the country's most successful star was hitting on her. Eventually, she also developed feelings for him. Michael proposed her just nine days after they met. They quickly fell for each other as they had a lot of things in common.
Well, surprised how can someone fall in love so quickly? There's a more interesting twist in their love story.
Diandra and Michael tied the knot just after knowing each other for six weeks. From this point onwards, Diandra became the talk of the town.
Marriage and New Phase of Life with Michael
The duo got married in March in 1977 on an intimate ceremony. After marriage, the couple shifted to Los Angeles where she continued her education. She graduated from the University of California. Her life totally changed after she became Mrs. Douglas. She started becoming familiar with the Hollywood world, but she didn't enjoy it at all. She shared her experience and claimed:
" I really did not enjoy Hollywood quite unquote life. Not that I had anything against them. I felt just different. They probably felt I was very strange as well."
Michael was aware of her discomfort and he tried his best to make things better for her. The former wife of Douglas added:
"There was an experience gap. We were like Mutt and Jeff. We were both aware that if we didn't make changes, the relationship didn't have a chance."
One year later, the couple welcomed their only son Cameron Douglas on December 13, 1978. Soon then, they moved to Santa Barbara for a better upbringing of their child. Within this time, Michael Douglas's career took a peak. While he witnessed a massive success in his professional life, his relationship with Luker went on deteriorating. Eventually, they came at a point where they decided to end their decade long marriage.
Failed Marriage: What Went Wrong?
A love story that began on a quick note ended resulting in a failed marriage. After 18 years of togetherness, Luker and Douglas parted their ways. But, what went wrong between the couple? Was it because of Douglas' inclining career? Or something else.
The real reason behind their divorce is still a matter of secrecy. Their divorce was among the most expensive divorce in Hollywood. It took nearly five years from 1995 to 2000 for the final verdict. Luker got a massive amount of $45 million and some of Michale's property as alimony. The separation gave Luker fame though in a negative manner. Apart from this, after many years of divorce, Luker again filed a case against Douglas claiming the earnings from Wall Street: Money Never Sleeps.
She was even tagged as a greedy woman for asking money from a man who was suffering from throat cancer back then. Luker justified that she tried to adjourn the case after knowing about Michale's cancer but his side pushed the case longer. However, after two hearings, her appeal for earnings from Money Never Sleeps was denied.
Michael, on the other side, revealed his biggest regret in life was not to divorce his wife Luker sooner. He said:
'I know I'm going to get into trouble here. I have nothing against her and in fact, I'm very fond of my first wife. But we should have ended that marriage eight or 10 years earlier. It took me too long to realize that if you go to a marriage counselor to resolve problems, it's in his interest to keep the marriage going.
Further, he added:
"Because if I end the marriage he's got no business. I think Diandra would probably say the same thing. That's the only clear regret I have."
Professional Life Breakthrough
Diandra Luker is mostly known as the first wife of Michael Douglas. However, she has been quite successful in her own field of expertise. Diandra began her career working as an active member of the 'Red Cross'. She had organized Red cross programs for the homeless in Manhattan. Diandra and her then-husband raised $200000 in one night for the homeless services.
Besides working for Red Cross, she went to work for the Metropolitan Museum of Art. She produced fund-raising movies for their "Office of Film and Television" and organized exhibitions as well. Apart from this, she has dabbed into the modeling world for a short period. She was signed by the Ford Modeling Agency. She represented popular brands like Carolina Herrara, Donna Karan, and Oscar De Le Ranta.
Also, she has gone ahead to work as a producer in many documentaries and movies. Her work as a producer includes American Masters, Frederic Remington: The of Other Dogs, and Beatrice Woods: Mama of Dada, Off the Menu, Broken Lines, The Last Days of Chasen's.
Life After Divorce
Diandra has never been lucky when it comes to love life. After she ended a relationship with Douglas, she moved on with business tycoon Zack Hampton Bacon III. Both of them dated for four years before welcoming twins via surrogacy. In 2004, the couple welcomed fraternal twins Hudson and Hawk. Unfortunately, shortly after the kids were born, Luker and Bacon's relationship turned sour leading to a break-up.
Things turned even ugly when they dragged each other in the court for a custody battle. While Luker wanted their kids to live in Santa Barbara, Bacon wanted to take them to New York. Luker even accused Bacon of domestic violence. Though her allegations weren't proved, she got the restraining order against him. Meanwhile, Bacon revealed Luker wanted a daughter and got downhearted when the surrogate gave birth to twin boys.
Later on, Luker adopted a daughter Imira from Kazakstan proving her ex's claim true. It's unclear how Bacon and Luker settled their custody fight. Nonetheless, Luker has been taking care of all four children after her failed relationships. All of the four siblings are often captured spending time together. Luker often posts photos of her children on her Instagram.
Luker has been spending her summers in Mallorca and wants her children to know about her culture. She spoke about it in an interview with HelenCummins.com and told:
" I want them to experience nature and the village. It is not enough to be bilingual, but important to be bicultural and aware of the fact that the US is not the center of the universe."
Michael and Diandra: Together For Their Son Cameron
Keeping aside the differences, Diandra and ex-husband came together for their only son Cameron. Cameron was battling with the drugs and was even sentenced to prison for seven years. As per TMZ, their son was treated like an animal at the Cumberland Federal Prison in Maryland. His parents wanted to visit him badly, but the authorities didn't give them permission.
Both Michael and Diandra were against this, but they were helpless. As of now, Cameron is out of jail. He shared his drug experiences and prison story in a book titled Long Way Home. Cameron is a living a normal life with his daughter Lua Izzy Douglas whom he shares with his girlfriend Viviane Thibes.