Before Sylvester Stallone was boxing his way through our hearts, he had thrown the white towel in front of the woman she loved. And, she is none other than Sasha Czack. She is a professional photographer and actress having worked in a handful of gigs. But more notably, she is the ex-wife and arguably the "love of Rocky's life."
Sasha is the woman who loved Stallone so much that she could care less for her career and stood by him to support his dream. She was there when he had nothing and probably needs some credit for his success. But how did it all started for this not-so fairy tale couple? Le't dive into Sasha's story to figure it out.
FAQ
Who is Sasha Czack?

Sasha Czack is an actress, director, writer, and photographer. She is known for movies like Vic, Love of Life, and Rocky. Apart from that, she is best recognized as the ex-wife of Sylvester Stallone.

How old is she ?

69 years old

What happened to Sylvester's first wife Sasha Czack?

Sasha and Sylvester got married in 1974 but their marriage didn't last forever. The duo got divorced in 1985. After her split from Sylvester, she was married to Rick Ash for a brief period of time.

How did Sasha's son Sage died?

Sage died at the age of 36 years following a heart attack caused by Atherosclerotic coronary artery disease. He was found dead at his house in Los Angeles on July 13, 2012.

Who is Seargeoh Stallone?

Seargeoh is the youngest son of Sasha and her former husband Sly. He was diagnosed with Autism at the age of 3 years. Over the years, his condition has improved after undergoing therapies.
Early Childhood
Alexandra Jane Czack aka Sasha Czack was born on July 17, 1950, in Chester, Pennsylvania, in the USA. She was raised by her parents whose identity is unknown. Sasha also known as 'Stitch' among her family hasn't disclosed much about personal life.
However, we do know about her educational background. Sasha got her advanced schooling from St John's Senior High School. After completing her high school, she attended the University of Notre Dame du Lac, United States. Sasha graduated with a bachelor's degree in Media Studies.
As Sasha was interested in an acting stint from her childhood days, she began struggling to establish her career in the entertainment world soon after completion of her studies.
Career Highlights
Sasha Czack has earned some credits to her name on her own apart from being called the ex-partner of Stallone. She is an actress and a photographer who has now sidelined her career for the sake of her family. So, how did Sasha begin her career in Hollywood?
In a pang of hunger to debut in Hollywood, Sasha began looking for opportunities as soon as she completed her education. Her search ended when she got the break in TV series named "Love of Life". The series directed by Roy Winsor aired on CBS network from 24th September 1951 to 1st February 1980.
Following the success, Czack got a lead role in the drama 'Play It As It Lays' in 1972 directed by Frank Perry. But, unfortunately, she gave up the role because her then-partner Sylvester insisted her to stay back in New York and help him in his project.
Then, she started helping Sylvester in his projects at the cost of her own career. While she was in New York, she even worked as a waitress to earn some penny to support Slyvester who was dealing with some sort of financial crisis then.
Further, she had a deep interest in photography apart from the acting. She turned her hobby into her profession by manning the camera for the movie 'Rocky' released in 1976. The movie was directed by Sylvester Stallone while Sasha was stills photographer.
Sasha took a break from the industry for a while. After a long gap, she debuted as a writer and director for the 1996 short movie "Long Lost Love". Her latest work in the movie industry was in the short film 'Vic' released on January 1, 2006. The movie was directed and produced by Sage Stallone while she portrayed the role of Lily in the movie. Since 2006, the actress hasn't any projects to her name. She has bid farewell to the industry.
Czack's career didn't honor much name and fame as she expected. But, her relationship with award-winning actor Sylvester Stallone did.
Beginning of New Chapter: Relationship and Marriage with Sylvester
Every love story has a beautiful beginning and they are special in their own way. The same is the case for Sasha and Stallone. They first met while working together in the industry. Within a short period of time, the duo started dating. However, the exact date from when they commenced their relationship is unknown.
When they met, Sylvester was on the verge of getting a big break in his career. She stood by his side through every up and down. While Syl was preparing for his breakthrough movie Rocky, the duo lived together in a rented flat in New York.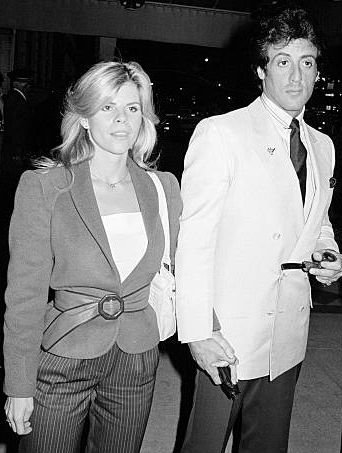 After dating for a long time, Sasha got married to Sylvester Stallone on December 28, 1974. Right after she got hitched to Stallone, she rose to fame. After marriage, the couple shifted to California and started their new journey. Her married life with Stallone was perfect and both of them were happy.
Moreover, the couple's joy doubled when they welcomed their first child on May 5, 1976. He was named Sage Stallone. Then, Sasha started spending time looking after her family and slowly sidelined her career. However, she was still in touch with the industry through her husband. The couple along with Sage attended 34th Annual Golden Awards at the Beverly Hilton Hotel in California on 29th January 1977.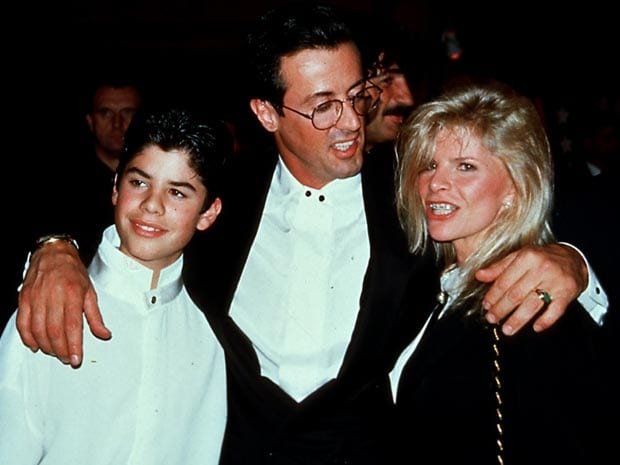 The duo expanded their family of three to four and welcomed Seargeoh Stallone on 5th February 1979. Everything was going well in the family until her youngest son Seargeaoh was diagnosed with autism at the age of three. The news hit their life as a sucker punch and there was nothing they could do. However, they tried their best to cure Seorgeaoh through many therapies.
Unfortunately, Seorgeaoh's illness became the strain to ruin her married life which ended in divorce.
Divorce with Stallone
Sylvester's hectic schedules and Sasha's battle with Seorgeaoh's autism put them in different worlds. Apparently, their relationship began deteriorating as lack of communication created differences between the couple. Regarding the same, in an interview with People Stallone said:
"It really was the turning point in Sasha's life. Her dreams and aspirations have been rechanneled into dedicated research. She is driven person in that area. All of her priorities are geared toward finding a cure. There is no fun in the future that way."
Their relationship which survived a split-up in 1978 finally was over for good. On mutual agreement, Sasha filed for a divorce and was finalized on February 14, 1985. Their divorce was one of the high profile divorces in Hollywood. The divorce was settled for $12 million being received by Sasha.
Life After Split-Up
After her doomed marriage, Sasha began looking after her kids Sage and Seargeoh. She moved to Malibu at a rented house six blocks away from Seorgeoh's mansion. Even though their marriage crumbled, the duo became a team taking care of their kids. They shared a healthy relationship even after their divorce. Likewise, Sasha and her ex worked for those who suffered from autism in association with the National Society for Autism and Adults.
She then made a come back in the movie industry in 1996 through the movie Long Lost Love. On the sets of the movie, Czack met actor Rick Ash. The pair quickly fell in love and got married in 1997. However, their marriage didn't have a happy ending. Their marriage was too short-lived whose inside details aren't known.
After going through a failed marriage for the second time, she perhaps remained single for the rest of her life.
Tragic Death of Eldest Son: Sage Stallone
Sasha's life has never been easy. She has passed through many turning points in life. The greatest of all was when she lost her eldest son Sage Stallone. On 13th July 2012, he was found dead at his Los Angeles home. He was found dead by his housekeeper.
Lots of speculations about Sage's death circulated in the media. There were rumors that he died due to drug overdose. As per Lt. Fred Corral who was an investigation in charge revealed no drugs were found in his body other than pain killers.
Sasha too broke the news to New York post that he was consuming painkillers at the time of death after having had five teeth pulled. She commented:
"I told him not to do that. I've heard about people dying having multiple procedures done to you're mouth. Do not have more than one tooth pulled. "
Later on, the autopsy report revealed the actual cause behind his death was a heart attack caused by Atherosclerotic coronary artery disease. Both Sasha and Seorgeoh were greatly affected by his death.